Network Techlab (I) Pvt. Ltd. provided NewAge Time & Attendance with Access Control solution.
Network Techlab (I) Pvt. Ltd. deployed a successful implementation of Face Recognition Solution at one of the leading infra consultancy company.
Domain
Infrastructure and Development
Location
Mumbai
Solutions Offered
Time & Attendance with Access control
Overview:
The Sicom has been responsible for catalyzing the development of Infrastructure and Industry in the state of Maharashtra. Since its inception in 1966, SICOM has dedicated itself to providing entrepreneurs with a range of fund-based and non-fund-based products and services. For more than 5 decades, SICOM has been assisting entrepreneurs in many ways. After 1994, SICOM has been extended their arms in entire India and now offering its services for projects located anywhere in India.
SICOM has 5 regional offices at Delhi, Nagpur, Pune, Aurangabad and Nashik. SICOM believe in continuously upgrading its products and providing a wide range of financial and advisory services to Indian and International investors is reflected in its vision.
Solution:
Started with Presentation of existing ACS portfolio of Network Techlab and Customer Success Stories where we have already deployed Access Control Solutions. SICOM team has shown confidence after this session and that was the great support we seek from every customer. With our goodwill in the market, we could able to arrange material and manpower before the project execution. We arranged material as per the project stage defined already and started working over this project.
Between the entire project timeline, our engineers strictly followed daily reporting on time to ensure timely delivery of the project. We created two teams to deliver this project on time, one team for Hardware Installation and the other for Software Installation.
Benefits:
Customer Satisfaction was fulfilled and they appreciated the efforts put in by the NTIPL team.
SICOM team got a neat & clean installation on both the sides of the door with proper EM lock alignment.
The company enabled with a well-executed attendance solution system which now saves their time and efforts to get a centralized data of attendance system.
Proper planning and decision making helped us to complete the project within the time limits given by the customer.
Thanks to the SICOM team for their appreciation of our work and kind words about us mentioned in the feedback call with OEM.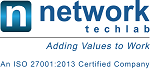 Network Techlab (I) Pvt. Ltd.
41, Sarvodaya Industrial Estate, Opp. Paper Box, Off. Mahakali Caves Road, Andheri East, Mumbai – 400093. India
P: 022-6681 4141 | info@netlabindia.com | www.netlabindia.com
Mumbai | Navi Mumbai | Ahmedabad | Vadodara | Vapi | Pune | Bangalore | Chennai | Goa | Delhi | Kolkata