The Leading pharmaceutical company enables their users, guest with seamless, secured network access.
Network Techlab helps in Architecture, Designing and Deploying Seamless and secured network access. We delivered a seamless user experience in the chemical plant in Gujarat.
Organization
Leading Pharmaceutical Company
Location
Gujarat
Domain
Pharmaceutical Manufacturing
Solutions Offered
Cisco Switching Solution
Overview:
The company is a Leading Pharmaceutical Company that manufactures Active Pharmaceutical Ingredients (APIs) Fixed Dosages Formulations (FDF), Peptides, Biosimilars and Injectable. Globally marketed in 65 counties and recognized for leadership into oral anti-diabetic market. The company also produces Vitamins, Minerals, Nutrients, Dermatology, Gastroenterology and Gynaecology medicines. The company is been ranked 18th in the Indian Pharmaceutical market and 2nd in the represented Indian Pharmaceutical market.
In order to business expansion, the company has opened a new plant in Gujarat and they were looking to set up high-speed, seamless and secured networking solution.
Challenge:
The company was looking for a high-speed, seamless and secured network that can be used for their server, storage and IoT devices with plant infrastructure. Plant operations were an extremely important aspect of their productivity. Most of the plant machinery is aligned with IoT devices that work on the networking connectivity hence they were looking for a solution which will provide higher internet access, availability and zero downtime while upgrades at any time. Basically, the company wanted to ensure that they could have higher availability of internet services.
Solution:
After looking at the challenges and after listening to an overview from customers, Network Techlab provided a solution to address these challenges. To understand the complete architecture and design we have done multiple presentations and designed a detailed solution.
We have implemented the next-gen Wi-Fi6 technology in the entire plant facility which provides seamless and high-speed network access to employees, guest users and plant IoT devices. We have provided with high-performance and ultra-low latency Cisco Nexus DC switches for their servers and storage.
Redundant solution provided to them provides higher availability, nearly zero downtime and easy upgrades during hardware failure cases. Cisco catalyst series switches at the Core of their networking and access layer give security at every step.
Benefits Achieved:
High-speed unified wireless and wired access throughout premises
24×7 Connectivity with Highest Uptimes
Seamless user experience for Employees, Guest and Plant Operations
The access layer enables secured access at every stage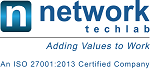 Network Techlab (I) Pvt. Ltd.
41, Sarvodaya Industrial Estate, Opp. Paper Box, Off. Mahakali Caves Road, Andheri East, Mumbai – 400093. India
P: 022-6681 4141 | info@netlabindia.com | www.netlabindia.com
Mumbai | Navi Mumbai | Ahmedabad | Vadodara | Vapi | Pune | Bangalore | Chennai | Goa | Delhi | Kolkata