The Global Leader in Processed Food Manufacturing optimizes data backup and compliance.
Network Techlab delivered a robust Data Backup and DR Solution to the Processed Food Manufacturing Company. Protected Data from Ransomware, Lower the TCO and Increased ROI.
Organization
Leader in Processed Food Manufacturing
Location
Mumbai
Domain
Manufacturing
Solutions Offered
Arcserve Data Backup Solution
Overview:
The company is the Global Leader in manufacturing of Soya and Sunflower Ingredients for processed food, processed meat, nutraceutical, healthcare, feed and cosmetic products. The company manufactures various innovative Non-GMO soya ingredients provide excellent solutions. They also produce tailor made food ingredients according to the requirements of their clients. Company has a strong R&D and provides various unique combination of functional, nutritional and economic benefits to their customers along with a technical advice.
Being in to a product development initiative, company invest a lot in to R&D and they simply can not give second thought, when question arises about data backup and data protection.
Challenge:
Its been estimated that Ninety percent of all companies worldwide have an IT outage at least once a year. These outages can cost $300,000 each hour and have far-reaching consequences. The company was expanding their operations and were looking for a robust, integrated backup solution that can save a time of IT personnel's. while doing a data backup.
The company was doing data backup on Tape directly which was time consuming. There was no rapid recovery available of Hyper V also restoration process was taking much time than usual. Daily backup on tape was taking much space and overall efficiency of the backup process couldn't maintained. There was multiple OEM involved in this backup process that was tedious task to manage in case of support is required.
Data Backup happening without DR and Ransomware protection, Retention period was much higher also cross platform restoration wasn't possible with the existing infrastructures. Less deduplication ratio was also resulting in the High Restore Window and fundamentally this needs to be improved after the project implementation.
Solution:
The company was evaluating solutions from different vendors and was very firm on their architecture before undertaking proof of concept. Team NTIPL has understood their architecture and designed a complete solution architecture designed for the company. Network Techlab provided them a Single Management console for Backup and DR. Solution designed in such way that primary copy of the data would be beneficial to the company in case of data loss. Backup now can be used as a Disaster Recovery Copy. Business continuity achieved with a Data replicated from primary site to DR Site.
Granular Restoration is possible in case of requirement, Instant VM recovery of Business critical VM's is delivered as per the demand. We have delivered assured Data Backup Solution that can recover data whenever required. Thanks to Automatic Scheduling feature of Arcserve Unified Data Protection Platform.
Interactive Dashboard and Detailed Backup Reports enables IT team for the complete data required for the IT Auditing Purpose and Backup Email Alerts saves much time of IT Team and they concentrate on the more productive tasks.
Benefits Achieved:
Global deduplication helps in less storage compared to other backup software.
Fastest Time to Value.
Real-Time Analysis.
Easy to back up/restoration of Databases.
One-Click Upgrade.
Support & Services.
Lower TCO with high ROI.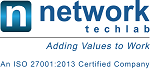 Network Techlab (I) Pvt. Ltd.
41, Sarvodaya Industrial Estate, Opp. Paper Box, Off. Mahakali Caves Road, Andheri East, Mumbai – 400093. India
P: 022-6681 4141 | info@netlabindia.com | www.netlabindia.com
Mumbai | Navi Mumbai | Ahmedabad | Vadodara | Vapi | Pune | Bangalore | Chennai | Goa | Delhi | Kolkata