Terminal Block Manufacturing Company lowers the TCO by Automating Data Backup.
Network Techlab enables easy scalable data backup for leading terminal block manufacturing companies, consolidating Architecture, management and Support.
Organization
Terminal Block Manufacturing Company
Location
Mumbai
Domain
Manufacturing
Solutions Offered
Commvault Data Backup Solution
Overview:
The Company is a leading manufacturer of terminal blocks in India. They are involved in Din Rail and PCB Terminal blocks and offer products including Interface Modules, Professional tools and switching power supplies. They work with quality systems that adhere to ISO 9001:2015 standards and all processes and systems are mapped in the SAP R/3 ERP system. They have been constantly improving and evolving our internal quality standards for more than four decades. The company believes in focusing on operational excellence that is constantly improving the customer experience.
Challenge:
The company was using a traditional backup software where they used to take backups on the 3rd party disk which was fundamentally taking too much of space as there was less de-duplication and compression happening. There was a need for and storage efficiency. Rapid recovery of VMs were required in case of downtime of the physical server and database. They were not able to take DB-level backups in the previous backup software they were using. In case of support, they need to manage multiple vendor support which was extremely tough sometimes.
Solution:
Team Network Techlab has discussed briefly the deployment and suggested a complete backup solution with a single management console. We suggested a Commmvault Backup Solution in which the primary copy on the disk and the operational copy is stored so that it can be used during the event of data loss. The solution given by us can be used for Backup or Disaster Recovery that may arise in the future. Now the company can instantly recover their VMs and physical server whenever required by businesses. Automatic Backup scheduling helps in automating backup with no human intervention required. This all can be analyzed by the IT team or management with detailed backup reports and can be produced in case of audits by system admins.
Benefits Achieved:
Global de-duplication with real-time analysis and the fastest time to value
Easily scalable, pay-as-you-grow model
Consolidated Architecture, management and Support
Immutable repository for ransomware protection.
Anomaly Detection and E-discovery of data.
Lower TCO with high ROI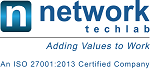 Network Techlab (I) Pvt. Ltd.
41, Sarvodaya Industrial Estate, Opp. Paper Box, Off. Mahakali Caves Road, Andheri East, Mumbai – 400093. India
P: 022-6681 4141 | info@netlabindia.com | www.netlabindia.com
Mumbai | Navi Mumbai | Ahmedabad | Vadodara | Vapi | Pune | Bangalore | Chennai | Goa | Delhi | Kolkata
Wan't to discuss your project? Contact us Today.