Leading Stock Broking Company has adopted modern storage technology, Secured their data with best Data Protection Software.
NTIPL assisted the Leading Stock Broking Company in enhancing the Data Backup. Reduced cost and enhanced storage with the central monitoring system.
Organization
Leading Stock Broker of Mumbai
Location
Mumbai
Domain
Broking and Exchange
Solutions Offered
Commvault Data Backup Solution
Overview:
Inaugurated in 1994, The Company is one of India's leading financial services firms providing an entire gamut of investment and offering services in the wealth management, investment banking and Brokerage and Distribution of Equities, Commodities, Mutual Fund to the High-net-worth individual and families.
The Company was using Traditional Backup Software for Data Backup and taking backup on the third-party disk and then on tape respectively. The Daily backup was covering a lot of space on the tape. The backup storage they were using wasn't efficient in comparison with modern backup techniques. No backup recoveries of VM's were generated, multiple devices and software were taking a lot of time for support whenever needed. The company was looking for optimized data protection that would ease its data operation.
Challenge:
The company required huge backup storage on the tape as well as a disk as per the retention period. There was no secondary backup copy available, recovery wasn't possible with VM, SO the company required a data recovery over VM's. Granular restoration of data is required. The company was looking for a modern backup storage solution that would help in a seamless backup schedule and provide them with a high restore window. They also required enhanced support and services which are suitable for cloud direct backup.
Solution:
As they were looking for the data backup solution, Team Network Techlab got engaged with them assisted to choose the best data backup solution which help them to reduce the Backup Window to 50%. Commvault helped in the encryption of data and backup. In the future secondary storage and data can be also replicated to the disaster recovery of the data at DR Side.
It wasn't easy to be sure about the solution which we deployed at the customer end. We explained to them the importance of redundant backup copies. Due to granular DB level restoration, RTO and RPO have decreased to 5 minutes. Instant VM recovery of Business Critical VM's instantly whenever Business demands. Scheduling of Backup & Policies are completely automated, no manual intervention is needed. Detailed Backup Reports which would be useful for Auditing purposes.
Benefits Achieved:
Global deduplication helps in less storage compared to other backup software.
Fastest Time to Value.
Real-Time Analysis.
Easy to back up/restoration of Databases.
One-Click Upgrade.
Pay as you grow model.
Consolidate Architecture (Hypervisor, Compute & Storage)
Linear Scalability (Without Downtime).
Support & Services.
Immutable repository for ransomware protection.
Anomaly Detection.
E-discovery for data.
Lower TCO with high ROI.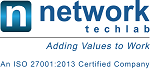 Network Techlab (I) Pvt. Ltd.
41, Sarvodaya Industrial Estate, Opp. Paper Box, Off. Mahakali Caves Road, Andheri East, Mumbai – 400093. India
P: 022-6681 4141 | info@netlabindia.com | www.netlabindia.com
Mumbai | Navi Mumbai | Ahmedabad | Vadodara | Vapi | Pune | Bangalore | Chennai | Goa | Delhi | Kolkata
Wan't to discuss your project? Contact us Today.