Leading spring manufacturing company provided their users with wireless connectivity across office premises
Network Techlab successfully deployed a wireless networking project for a Leading Spring Manufacturing Company, provided with connectivity 24×7
Organization
Spring Manufacturing Company
Location
Mumbai
Domain
Manufacturing
Solutions Offered
Wireless Networking Solution
Overview:
The company is Thane based Manufacturer and in the industry since 1967. They are specialized in the Manufacturing of Coil springs, Disc Springs, Lock-Rite Washers©, Belleville Washers, E-clips, Serrated Washers, Contact Washers, Rings, Precision Sheet Metal Components, Stampings & Assemblies. They are catering to the requirements of Domestic as well as International Customers for more than Four Decades. The company has continued its steady growth by Developing & Implementing Modern Manufacturing Methods, Technology & Infrastructure.
Increased use of mobile users has developed the need for wireless connectivity in the office premises hence they were looking for a partner who can help them with Wireless Networking Solution that would enriched the user experience within office premises while using network.
Challenge:
The use of mobile devices such as Laptops and Mobiles for official work has increased tremendously after the pandemic. The company wanted to improve on its network connectivity. Multiple users were connecting from different teams and accessing the company network to connect business apps. Here IT team wanted to manage their network centrally and required centralized wireless solutions. Cost Implication was also a great challenge as they were looking for cost-effective solutions compared to the other market leaders in the networking industries. Due to the lack of wireless infrastructure, the users relied on wire connectivity which wasn't secure and scalable. At this time, the company was needed with Wi-Fi and LAN for better visibility for the entire campus and staff. Existing IT teams were having lack of integration capabilities to provide better security with their lack of network and user visibility which would lead to unauthorized network access.
Solution:
Network Techlab got engaged with the company and provided solutions based on their need. We provided with Alcatel Lucent Wireless Solution on their premises.
We are provided with Wireless and wired infrastructure that is fault-tolerant which is providing 24X7 network connectivity. We enhanced the integrated existing infrastructure such as a user database with Wi-Fi and LAN for better visibility. With the solutions we have implemented, now the IT team has visibility to know who is trying to connect to the network and what they are trying to access i.e. end to end visibility. We provided better security and segmented the network based on their respective business divisions.
Cost implications challenge taken into consideration while designing a solution. Best Network Coverage provided with a solution which we delivered without additional interference of IT teams.
Benefits Achieved:
Designed a Cost-effective wireless solution
Better coverage of network within office premises
Established wireless connectivity 24×7
Timely execution of the Wireless Project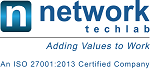 Network Techlab (I) Pvt. Ltd.
41, Sarvodaya Industrial Estate, Opp. Paper Box, Off. Mahakali Caves Road, Andheri East, Mumbai – 400093. India
P: 022-6681 4141 | info@netlabindia.com | www.netlabindia.com
Mumbai | Navi Mumbai | Ahmedabad | Vadodara | Vapi | Pune | Bangalore | Chennai | Goa | Delhi | Kolkata
Wan't to discuss your project? Contact us Today.