Leading Project Management Company moved to HCI, Lowered the TCO and Increased Efficiency
NTIPL assisted in deploying HCI Solution, provided with enterprise cloud storage and single console management for infra visibility
Organization:
Leading Group of Industry Conglomerate
Location:
Mumbai
Domain:
Manufacturing & Designing
Solution Offered:
Networker and Data Domain Backup Solution
File System Backup
SQL Backup
Transactions Logs Backup
Oracle Backup
VMware – Virtual Machine
Overview:
Engineering excellence and a strong pioneering spirit continue to underscore the operating philosophy of This Company and being part of leading industrial conglomerate since 1987. This company has played a pivotal role in India's economic growth and created sustainable value for all its stakeholders through its products and services across ten industries.
Challenge:
Companies adopted traditional data protection solutions, but with the tremendous growth of data, the ability to protect that data and ensuring a clean recovery for access during recovery has become more and more dubious. Concerns arise for data integrity for the companies who are still deploying tape backups. Data backup tapes are built with magnetic media, which is extremely vulnerable to corruption and exposure of data.
Data growth is unpredictable! Many organizations even today can't anticipate the growth in the amount of data they require to archive and thus end up having a data backup system with less capacity disaster. Physical Tape Backup isn't sufficient for the tremendous data growth and expansion of business lines which was generating loads of data. They required automated Disk Backup that would help them in saving time and money both. Also, it would deliver Data Protection Solution.
Solution:
Team Network Techlab got engaged with Dell team the best independent footprints of Networker and Data Domain solution which would helped them to configure in such a way that it would give 99.99% recoverability. We had done implementation of the backup application EMC Networker and Data domain. This helped in taking the backup of file server SQl, Oracle DB and VMware.
Disk backup, or disk-based backup, is a data backup and recovery method that backs data up to hard disk storage. Backups to disk often employ data reduction methods such as deduplication and compression to maximize storage capacity when protecting large amounts of data.
Benefits:
Seamless integration with Data-Domain
Seamless integration with VMware for extremely fast VM backups
Disk backup is the ability to perform deduplication on the data being backed up, which reduces both backup/recovery times and – perhaps most importantly – data volumes.
Deduplication usually takes place during data transfer to disk. Some tools ship with the disk hardware and others with data backup software.
High Availability
Support and Services
Active Hardware Monitoring
Easy To Manage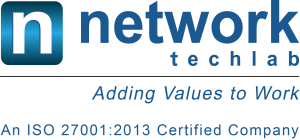 Network Techlab (I) Pvt. Ltd.
41, Sarvodaya Industrial Estate, Opp. Paper Box, Off. Mahakali Caves Road, Andheri East, Mumbai – 400093. India
P: 022-6681 4141 | info@netlabindia.com | www.netlabindia.com
Mumbai | Navi Mumbai | Ahmedabad | Vadodara | Vapi | Pune | Bangalore | Chennai | Goa | Delhi