Leading B-school institute of Management and Research Provided Secured Connectivity with end to end visibility.
NTIPL provided with seamless and secured wireless connectivity for the students, staff and guests to secure and high-performance network switching.
Organization
Leading Business School
Location
Mumbai
Domain
Education
Solutions Offered
Aruba Switching Solution
Overview:
The School (set up in 1981) has been consistently ranked among the top 10 B-Schools in India. It is Asia's most innovative and socially responsive school of management. Its mission is to Influence Practice and Promote Value-based Growth. We are proud that our many innovations in pedagogy have been recognized in the form of rankings. We recognize the significant contribution of entrepreneurs to the growth of the economy.
The School has always been using high-end technology to automate processes and smooth user experience. Here they were looking for a seamless user experience for the wireless connectivity.
Challenge:
The organizations wanted to improve on the network connectivity. The customer was using unmanageable switches where there was no visibility from who and where users were trying to connect. Multiple times customers faced network outages issues due to non-intelligent networking infrastructure. There was a need for enough intelligent network dashboards to identify networking issues and resolve them in a proactive manner that would help them to enhance the user experience. Due to the lack of wireless infrastructure, the users relied on wire connectivity which wasn't secure and scalable.  At this time, the company was needed with Wi-Fi and LAN for better visibility for entire campus and staff. Existing IT teams were having lack of integration capabilities to provide better security with their lack of network and user visibility which would lead to unauthorized network access.
Solution:
Network Techlab got engaged with the company and provided solutions based on their need. We implemented HPE-Aruba manageable switching solution in the entire campus which is providing high performance, secure connectivity and proactive problem solving before it impacts the entire network. We had also implemented latest Wi-Fi 6 technology in the entire campus which is providing seamless connectivity to users and staff, doesn't matter where they are trying to connect whether from classroom, hostel room or faculty building. He/she would be getting the same user experience and access rights. While providing this solution to the company we have taken utmost care and maintained uptime.
We provided with Wireless and wired infrastructure is fault-tolerant which is providing 24X7 network connectivity. We enhanced the integrated existing infrastructure such as a user database with Wi-Fi and LAN for better visibility. The solutions we have implemented, now the IT team has visibility to know who is trying to connect onto the network and what they are trying to access i.e. end to end visibility. We provided better security and segmented the network based on their academic programs i.e. students belongs to each program getting different access rights which are providing better segmentation and security.
Benefits Achieved:
Proactively problem was identified and resolved
In-depth network (wired and wireless) visibility
High speed, Unified and seamless wired and wireless access
The same user experience doesn't matter from where the user is connecting.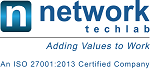 Network Techlab (I) Pvt. Ltd.
41, Sarvodaya Industrial Estate, Opp. Paper Box, Off. Mahakali Caves Road, Andheri East, Mumbai – 400093. India
P: 022-6681 4141 | info@netlabindia.com | www.netlabindia.com
Mumbai | Navi Mumbai | Ahmedabad | Vadodara | Vapi | Pune | Bangalore | Chennai | Goa | Delhi | Kolkata
Wan't to discuss your project? Contact us Today.