Network Techlab (I) Pvt. Ltd. Helped IIFJAS Trade Fair in Improvement of CCTV Systems.
IIFJAS Largest Trade Fair For Costume Jewelry & Fashion In Asia Improved Their CCTV Surveillance System with the Solutions Offered. By Network Techlab (I) Pvt. Ltd.
Organisation
IIFJAS Largest Trade Fair
Location
Goregaon NESCO, Mumbai
Domain
Manufacturing Industry
Solutions Offered
Desktop/Laptop/UPS/LCD/LFD on Rent
Overview:
IIFJAS is a pioneer in manufacturing CCTV Systems in India. Ever since its establishment in 1972, it has constantly endeavored to produce advanced CCTV Systems matching International Standards
Business Needs: 
Capture every movement of every stall in the exhibition.
Power back up solution in-case of power failure.
Advertisement of products on LEDs and LFDs.
Desktops and laptops for smooth operation LEDs and LFDs.
Offered Solutions:
NTIPL Provided Desktop/Laptop/UPS/LCD/LFD on rent and helped them in the entire setup to monitor the exhibition.
Benefits:
Monitor Activities with CCTV systems helped to keep a track of what is happening at the premises. By monitoring the activity of workers and visitors at the site, the workforce had total peace of mind and security about the activities going on under their roof.
Evidence Collection.
Maintain Visitor Records.
We Provided 60 UPS (600 ITONE) for 10 to 15 minutes of backup time for their efficient Operation during the exhibition.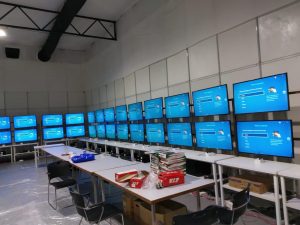 Network Techlab (I) Pvt. Ltd.
41, Sarvodaya Industrial Estate, Opp. Paper Box, Off. Mahakali Caves Road, Andheri East, Mumbai – 400093. India
P: 022-6681 4141 | info@netlabindia.com | www.netlabindia.com
Mumbai | Navi Mumbai | Ahmedabad | Vadodara | Vapi | Pune | Bangalore | Chennai | Goa | Delhi | Kolkata