NTIPL's energy-efficient solution not only saved their electricity charges but also gave an alternate source of power supply to the Sunita Upvan Mangal karyalaya.
Network Techlab (I) Pvt. Ltd. enhanced Sunita Upvan Karyalaya's Operations by reducing their electricity cost with Hybrid Solar Solution.
Domain
Hospitality
Organisation
Sunita Upvan Mangal karyalaya
Location
Kashele, Raigad-Maharashtra
Solutions Offered
11Kw Hybrid Solar Solution
Overview:
Established in the year 2018, Sunita Upavan Mangal Karyalaya in Kashele, Raigad-Maharashtra is a top player in the category of Banquet Halls in the Raigad-Maharashtra. This well-known establishment acts as a one-stop destination, servicing customers both local and from other parts of Raigad-Maharashtra. Over the course of its journey, this business has established a firm foothold in its industry. The belief that customer satisfaction is as important as their products and services have helped this establishment garner a vast base of customers, which continues to grow day by day. This business employs individuals that are dedicated towards their respective roles and put in a lot of effort to achieve the common vision and larger goals of the company. In the near future, this business aims to expand its line of products and services and cater to a larger client base. In Raigad-Maharashtra, this establishment occupies a prominent location in Kashele. It is an effortless task in commuting to this establishment as there are various modes of transport readily available. It is at Karjat Murbad Road, near Bhavani Mata Mandir, which makes it easy for first-time visitors in locating this establishment. It is known to provide top service in the following categories: Banquet Halls, Event Organizers, Non AC Banquet Halls, Wedding Planners, Birthday Party Organizers
Key Areas of complications
With the drastic rise in the prices of the electricity bills and indefinite power outage, Sunita Upavan Karyalaya was facing a dual challenge of downsizing the electrical budget and also coming up with an alternative form of energy which will save the environment. After visiting the proposed site and analyzing the issue, NTIPL came up with a better option that would enable the smoother functioning of the day to day activities, without hampering the environment. We proposed Green Energy which would enable the entire Mangal Karyalaya load (11Kw) to be run on Solar Energy.
Challenges
Reduce the electricity bill
Backup for electricity
Promote Green Energy in school's educative environment
Proposed Solution
To find a cheaper, more efficient, sustainable and eco-friendly alternative
Providing solar energy to promote renewable source of Green Energy
Our experienced team came up with innovative solutions for installing the Solar panels on the rooftop
Why was there a need for solar energy ?
In today's world, there is excessive usage of fossil fuels such as Coal, Oil, Natural Gas, etc. these are Perishable Resources. Energy such as Solar, Thermal, Wind, Biomass, Hydropower, etc. are renewable and infinite, which can help in safeguarding the environment and provide a better future for the coming generations. The clean energy sector connected 6.9 GW to the National grid in the last fiscal year. Solar is the most dominant renewable source of energy.
Technical Specifications
The entire panels were installed on the rooftop in the south direction. As per the latitude of the location, we have installed the panels to gain the maximum efficiency from the solar light.
During the day time load operated from Solar power & also to charge the battery. When the main grid supply was unavailable, the load would automatically run from the battery.
Hybrid solar inverters automatically select solar mode, grid mode & battery mode.
The complete return on investment (ROI) was made in less than 4 years, whereas the life span for solar is more than 25 years.
Conclusion:
With proper implementation of the solar solutions, their electricity bill was reduced along with the issue of a power outage. They are now well versed with electricity power for the smooth functioning of their events.
Our energy-efficient solutions not only saved the electricity charges but also gave an alternate source of power supply to the Mangal karyalaya.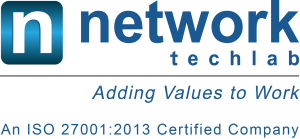 Network Techlab (I) Pvt. Ltd.
41, Sarvodaya Industrial Estate, Opp. Paper Box, Off. Mahakali Caves Road, Andheri East, Mumbai – 400093. India
P: 022-6681 4141 | info@netlabindia.com | www.netlabindia.com
Mumbai | Navi Mumbai | Ahmedabad | Vadodara | Vapi | Pune | Bangalore | Chennai | Goa | Delhi | Kolkata