NTIPL's reliable, high quality, high efficiency and cost-effective products assisted this System Integrator by redefining their LED Light Infra Setup.
Network Techlab (I) Pvt. Ltd. Assisted One Of The Leading System Integrator Of Mumbai With LED Lighting Solutions To Enhance Their Working Infra And Save On Electricity Consumption.
Organization:
System Integrator
Location:
Sakinaka, Mumbai
Domain:
IT and Electrical (System Integrator)
Solution Offered:
LED Lighting Solutions
Overview:
This leading system integrator of India provides energy and automation digital solutions for efficiency and sustainability. They combine world-leading Energy Technologies, real-time Automation, Software and Services into Integrated Solutions for homes, buildings, Data Centres, Infrastructure and Industries. They make process and energy safe and reliable, efficient and sustainable, open and connected.
Existing Set-up:
Earlier their existing Infra, Workstation and Manufacturing units had Compact Fluorescent Light (CFL).
Challenges:
The existing lights were cold temperature-sensitive, not recommended for enclosed fixtures, were at higher initial cost than LEDs, longer warm-up time, had limited color temperatures, do not dim nearly as smoothly and dimming decreases the life of the bulb. Apart from these, the client faced major less illumination and higher electricity consumption issues from their existing CFL Lights.
Solutions:
NTIPL as the major player in LED Lighting Solution provider and LED Light Dealer replaced all their existing CFL Lights with LED Lights that included the below products with warranty and complete the entire project within a month.
| | | | |
| --- | --- | --- | --- |
| Sr. No. | Product | Watt | Quantity |
| 1 | 2×2 LED Panel Light | 36W | 90 |
| 2 | LED Tube Light | 20W | 144 |
| 3 | Down Light | 15W | 100 |
| 4 | LED PLL Lamp | 18W | 20 |
Delivered Value:
The customer was extremely delighted with the below value received on the implementation of LED Lights.
50% Saving on Electricity Consumption
Increase in LUX Level (From 60 degree to 400 degree)
Conclusion:
Our efficient and reliable LED Light quality not only played a crucial role in improving their existing working condition and workplace but also saved a huge amount of in Electricity Consumption.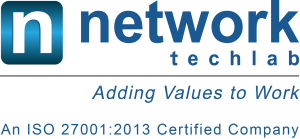 Network Techlab (I) Pvt. Ltd.
41, Sarvodaya Industrial Estate, Opp. Paper Box, Off. Mahakali Caves Road, Andheri East, Mumbai – 400093. India
P: 022-6681 4141 | info@netlabindia.com | www.netlabindia.com
Mumbai | Navi Mumbai | Ahmedabad | Vadodara | Vapi | Pune | Bangalore | Chennai | Goa | Delhi