Network Techlab (I) Pvt. Ltd. helped a leading IT company in the improvement of Power Quality by providing fruitful solutions.
Leading ITES company Saved on Power with the Help of Network Techlab (I) Pvt. Ltd.
Organisation
Consulting and IT
Location
Mumbai
Domain
IT
Solutions Offered
Harmonic filter
Overview:
This company is a French multinational corporation that provides consulting, technology, professional and outsourcing services.  Headquatered in Paris, France ; this organization is at the forefront of innovation to address the entire breadth of client's opportunities in the evolving world of cloud and digital platforms.
The major loads in DRI:
Lighting
UPS's
Chillers
IT load
The existing power Distribution in DRI:
Number of Power Supply Transformer – 3 Nos
Transformer Rating – 2.5 MVA
Number of Uninterruptable Power Supply – 8 Nos
UPS  rating – 300KVA
Challenges:
Cable Over heating
Transformer over heating
Frequent failure of electronic PCB's in UPS
Frequent tripping of breakers resulting into interruption in Data centre.
Solutions:
NTIPL worked closely with the company's electrical team to understand the current issues during the activity. The team understood the typical power problems causing such failures. After analyzing the whole report, NTIPL helped them by giving suggestions to overcome such failures which include a harmonic filter for harmonic mitigation.
Performance result of AF3:
  Sr.   No.
   Test Condition
                     Phase
         R
              Y
           B
                                                                                   With  AHF
1
             MPP-1
      Load Current (Amp)
     514.3 A
        502.3 A
    508.9 A
          Current T.H.D. %
          6%
            5%
        5.1%
              Power Factor
                                       0.99
                                                                      Without AHF
2

MPP-1

Load Current (Amp)
596.6 A
579.2 A
588.1 A

Current T.H.D. %

12.4%
13.6%

12.9%

Power Factor

0.99
Sr. No.

Test Condition
Phase
R
Y

B

With  AHF

1

MPP-2

Load Current (Amp)

507.4 A
526.5 A
575 A

Current T.H.D. %

6.1%
5.8%

6.5%

Power Factor

0.98

Without AHF

2

MPP-2
Load Current (Amp)
507.4 A
550.3 A
600.8 A

Current T.H.D. %

26.64%
29.12%

22.51%

Power Factor

0.96
Sr. No.

Test Condition
Phase
R
Y

B

With  AHF

1

MPP-3

Load Current (Amp)

497.5 A
504.4 A

463.7 A

Current T.H.D. %

4%
3.5%

4.3%

Power Factor

0.99

Without AHF

2

MPP-3

Load Current (Amp)
495.1 A
498 A
483.1 A

Current T.H.D. %

9.8%
9.3%

10.1%

Power Factor

       0.98
Benefits:
Direct
Saving in transformer losses (KW)
Indirect
Cable temperature reduced
Stopped frequent and spurious tripping of MCCBs
Stopped failures of PCB's in UPS
Due to improvement in power quality, the electronic control systems and logics are well protected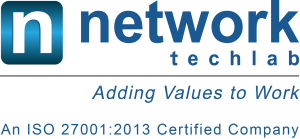 Network Techlab (I) Pvt. Ltd.
41, Sarvodaya Industrial Estate, Opp. Paper Box, Off. Mahakali Caves Road, Andheri East, Mumbai – 400093. India
P: 022-6681 4141 | info@netlabindia.com | www.netlabindia.com
Mumbai | Navi Mumbai | Ahmedabad | Vadodara | Vapi | Pune | Bangalore | Chennai | Goa | Delhi | Kolkata