Network Techlab (I) Pvt. Ltd. helped Jindal Steel & Power Limited in the improvement of Power Quality.
Jindal Steel & Power Limited Saved on power with the help of Network Techlab (I) Pvt. Ltd.

Organization:
Jindal Steel & Power Ltd.
Domain:
Manufacturing Industry
Location:
Raigarh, Madhya Pradesh
Solutions Offered:
Harmonic Filter
Overview:
JSPL is an industrial powerhouse with a dominant presence in steel, power, mining and infrastructure sectors. With its timeless business philosophy, JSPL is primed to not merely survive but win in a marketplace marked by frenetic change. Indeed, the company's scorching success story has been scripted essentially by its resolve to innovate, set new standards, enhance capabilities, enrich lives and to ensure that it stays true to its haloed value system. Not surprisingly, the company is very much a future corporation, poised to become the most preferred steel manufacturer in the country.
The major loads in DRI:
DC Thyristor Drives
UPS's
AC Drives
The existing power Distribution in DRI: 
4 nos. of KILNs Machine with 1 trafo load distributed to each KILN
4 nos. of Power Supply Transformer with transformer rating of 1.7MVA
1 Spare Transformer whose efficiency is (@ PF-1, assumed) 98%
Challenges:
Cable overheating
Transformer overheating
Frequent failure of electronic PCB's for unknown reasons
Frequent tripping of breakers resulting in process interruption
Solution:
NTIPL worked closely with its electrical team to understand the current issues during the activity.   The team understood the typical power problems causing such failure. After analyzing the whole report, NTIPL helped them giving suggestions to overcome such failures which includes a harmonic filter for harmonic mitigation.
Performance result of AF3:
Sr. No. 
Test Condition 
Phase 
R 
Y 
B 
1
With One AF3
Connected 
Load Current (Amp) 
558 A 
612 A 
560 A
Current T.H.D. %
27.60%
29.40%
28.50%
Power Factor 
0.63
2
With Two AF3
Connected 
Load Current (Amp) 
540 A 
590 A 
540 A
Current T.H.D. %
7%
10%
10%
Power Factor 
0.72
3
With Three AF3
Connected 
Load Current (Amp) 
480 A 
487 A 
482 A
Current T.H.D. %
8%
7.90%
6.90%
Power Factor 
0.8
4
With Four AF3
Connected 
Load Current (Amp) 
340 A
350A
344 A
Current T.H.D. %
7.80%
8%
6%
Power Factor 
0.92
Benefits:
A. Direct
Savings in KVA (Electricity consumption)
Savings in Transformer losses (KW)
B. Indirect
With AF3 two distribution transformers freed for future expansion
Cable temperature reduced
Stopped frequent & spurious tripping of MCCBs
The spurious blowing of fuses in distribution was controlled
Due to improvement in power quality, the electronic control systems and logic are well protected
KVA demand is made free for additional usage
Conclusion:
Input current reduced from 680A to 350A per phase
Input PF is improved from 0.57 to 0.92
Input current distortion reduced from 57% to 7 – 8%
Input KVA reduced from 489 to 252 KVA
KVA Released – 237KVA (direct reduction)
The existing transformer of 1.7 MVA was supporting 0.97 MW load earlier. Now, it can support 1.56 MW load, as Harmonics & PF are controlled.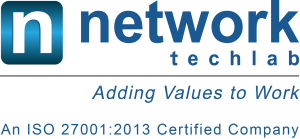 Network Techlab (I) Pvt. Ltd.
41, Sarvodaya Industrial Estate, Opp. Paper Box, Off. Mahakali Caves Road, Andheri East, Mumbai – 400093. India
P: 022-6681 4141 | info@netlabindia.com | www.netlabindia.com
Mumbai | Navi Mumbai | Ahmedabad | Vadodara | Vapi | Pune | Bangalore | Chennai | Goa | Delhi | Kolkata