Network Techlab India Private Limited, provided a collaborative On-Grid Solar to Greenglobe Fuel Solutions, for day-to-day consumption of power and to eradicate excessive expenses on huge electricity bills.
Greenglobe Fuel Solution – Installation of On grid solar solution for electricity bills & cost saving factor.
Organization –
Greenglobe Fuel Solutions
Location –
Bhiwandi, Maharashtra 421311
Domain –
Manufacturer
Solution Offered –
148.5kw Solar Ongrid System Solution (Dep.capex system)
Greenglobe Fuel Solutions, established in 2004 with a mission to lead manufacturer and service provider for various products and equipments used for new generation fuels (like natural gas, liquefied petroleum gas and hydrogen) through constant endowed in innovation technology.
Greenglobe Fuel solution was spending extensively on electricity bills as the current electrical distribution board was lending huge expenses due to excessive consumption of energy by electrical units. However after a successful installation of solar energy solution, the organization is successfully saved the cost incurred on electricity bills with optimization of resources of solar units.
Challenges –
The challenges been face by them were related to huge cost incurred on current electric components i.e. machineries, high cost electricity consumption, capex laid the business.
Organisation require to install the panels on the roof without changing the structure of their Business plant.
However, Network Techlab has considered this requirement and assisted them cooperatively over the installation of  Ongrid solar system.
Solutions offered –
Compared with conventional technologies, renewable energy sources such as On-grid solar powered systems minimizes carbon footprint that keeps the air and environment clean. Similarly it is harmless to the human irrespective of Business and also it eliminates less hazard to the electrical components or units.
Conclusion –
On the basis of the solution provided we reached to following conclusion –
Successful installation without any interruption.
Reduction in electricity bills.
Better return on investment.
Easy maintenance.
Renewable source of energy.
Saved huge Capital investment.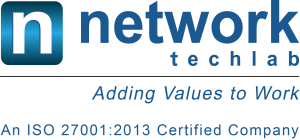 Network Techlab (I) Pvt. Ltd.
41, Sarvodaya Industrial Estate, Opp. Paper Box, Off. Mahakali Caves Road, Andheri East, Mumbai – 400093. India
P: 022-6681 4141 | info@netlabindia.com | www.netlabindia.com
Mumbai | Navi Mumbai | Ahmedabad | Vadodara | Vapi | Pune | Bangalore | Chennai | Goa | Delhi
Wan't to discuss your project? Contact us Today.