NTIPL has assisted Gold Seal for implementing solar energy solutions with high efficient 100 KW Solar On grid System for their manufacturing units & ensured energy optimization.
Making the power consumption even more proficient by offering Gold Seal with 100 KW Solar On grid System.
Saargummi India Innovating with Power of Solar
Organization:
Gold Seal – SAARGUMMI India Pvt. Ltd.
Location:
Daman
Domain:
Seal Manufacturers
Solution Offered:
Net value 100 KW Solar On grid System
Overview:
Gold Seal organization is the pioneer in India for weather-strips manufacturing since 1958, with the manufacturing of the first Door Seals, rubber beadings and gaskets for the first Indian made car and is still leading in the OEM, replacement and exporting across the market.
As the organization is highly into huge manufacturing of various seals & other materials, there has been a tremendous usage of electrical consumption for its machinery and working environment. The organization got in touch with Team Network Techlab for  their energy consumption related challenges.
Challenges:
Group net metering – There are basically 2 companies one is Permaseal Auto Prod. Pvt. Ltd & second is GoldSeal – SAARGUMMI India Pvt. Ltd. As the sufficient space was not available on
Why innovation was required?
Being the organization into manufacturing of seal & other materials at an extensive level, such organization requires suitable unit of energy consumption for making their machinery & tools in proper working conditions. Due to lockdown period, the production was at the minimal level, however post the lockdown period the unit of production has increased rapidly due to market demands. Hence at Daman place, energy consumption is a bit problem due to shortage of electric supply in that region, hence organization asked us for a renewable source of energy to them by providing Solar On grid system as it is a natural source of energy which can help them uninterrupted for their working environment.
Conclusion:
NTIPL has made this project successful & dignified on the basis of following aspects..
1. Better return on investment
2. Stable synchronization with other source of power units.
3. Reduction in electricity bills
4. Easy maintenance
5. Renewable source of energy.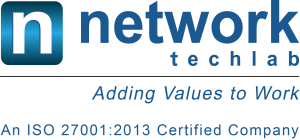 Network Techlab (I) Pvt. Ltd.
41, Sarvodaya Industrial Estate, Opp. Paper Box, Off. Mahakali Caves Road, Andheri East, Mumbai – 400093. India
P: 022-6681 4141 | info@netlabindia.com | www.netlabindia.com
Mumbai | Navi Mumbai | Ahmedabad | Vadodara | Vapi | Pune | Bangalore | Chennai | Goa | Delhi