Network Techlab (I) Pvt. Ltd. helped in the proper laying of Cables in Datacenter and Racks.
Network Techlab worked for a One of the Internation Embassy Office's and Completed Structure Cabling Project with Fastest Timeline.
Organisation
International Embassy office in Mumbai
Location
Mumbai, Maharashtra
Domain
Government
Solutions Offered
Structure Cabling and Rack Dressing
Overview:
The British High Commission in India maintains and develops relations between the UK and India.
Current Scenario:
The client had made some changes in their IT Infrastructure, they increased 14 workstation along with 4 Nodes on each workstation. Existing 42U rack in the Data Center was not sufficient to take this increased load. Rack installed in the Data Center was almost 10 years old and there was too much of hotchpotch in the Cabling, Rack Dressing. Also Cabling was not done as per Data Center guidelines; due to which Data Center had become untidy and unsettled.
Challenges: 
The client wanted to establish a new connection in the existing rack of the Data Center and very limited time was given to complete this activity. As this was one of the International embassy offices, special downtime was not taken to complete this activity. Our Technical team had to complete this activity in their office with one switch live, to maintain the connectivity/transaction. All switches were controlled by the Head Office situated in another country and also for any emergency or issue there was no chance to get any assistance from the local IT Team.
By following a strict timeline, we timely completed this activity, we won their trust without any escalation and with quality work. As we had to complete this activity in a very short time, we din't get enough time to procure hardware / material from the OEM.
As this entire activity was time sensitive, we kept 1-2 projects on hold where delivery was not very urgent. Cable laying route was not defined at the first stage  in this project. Midway through in this project, we came to knew that there is a requirement of the wooden raceway with metal plates which was unmanageable due to short and an urgent notice.
At the time of this activity, we were unable to move from one place to another without an escort or security personnel thus activity was put on hold,, furniture layout was also not fixed thus we had to manage our activity timeline with furniture team, flooring carpet was removed and again laidback during this activity which was out of the scope in the project, but inspite of many odds we completed this project successfully.
Solution:
Winning this project was never an easy task, to gain the confidence of the customer we presented our past work experience along with case studies and certification of our Technical workforce and we got selected to execute this project. We were able to manage the procurement of hardware and material in very short time; this was only possible because of owing to our goodwill in the market. We utilized manpower from another site and executed well also in terms of manpower management.
We were able to manage Cable Laying in the existing conduit pipes laid at the customer place. We understood that urgency is the core of this entire activity and we started optimizing time and resources in the best possible manner. In our dependent activities on the Third party Teams, we tried to complete other tasks within time and executed well. We divided rack dressing into two teams, we worked hard to execute this entire activity within the shortest given timeline and successfully implemented the project.
Benefits:
Customer satisfaction was fulfilled and finally customers appreciated the efforts of our Team.

They got neat & clean installation at both Rack end & User end. With this installation proper Cable Tie, Velcro Tie & cable spirals respectively managed on both ends.

We did Digital meter testing for Cable and provided them with a proven OEM certification.

Now all racks can be recognized with numbering, labeling. Project completion report and signoff document provided to the customer.

We were able to achieve objectives set by us and the client finally delivered a project within the timeline as committed.

At the time of feedback Customer recommended our name to OEM vendors for Best in Class Project Execution and Project Delivery.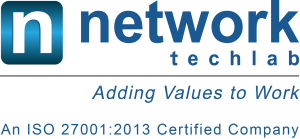 Network Techlab (I) Pvt. Ltd.
41, Sarvodaya Industrial Estate, Opp. Paper Box, Off. Mahakali Caves Road, Andheri East, Mumbai – 400093. India
P: 022-6681 4141 | info@netlabindia.com | www.netlabindia.com
Mumbai | Navi Mumbai | Ahmedabad | Vadodara | Vapi | Pune | Bangalore | Chennai | Goa | Delhi | Kolkata
Wan't to discuss your project? Contact us Today.