Network Techlab assisted One of the renowned stock market for space capacity issue & effective implementation of power back up for Data center.
One of the renowned stock market has been deployed with 40kva x 03 no's UPS in order to maintain stable power back up & space management.
Organization:
One Of The Renowned Stock Market
Location:
Malad West
Domain:
Stock Market
Solution Offered:
40kva x 03 no's UPS with complete electrical work inside the rack.
Founded in 1997, the renowned stock market is an India-focused client-centric, financial service firm specialized in equity markets. Over the last two decades of existence in the financial markets, transforming from a traditional Indian brokerage arbitrage firm to a full-service.
With an expansion of business structure, there has been increase in various electrical equipment that lead to intake load of power capacity. However the current back up was not liable and upto the mark and hence due to requirement for super load capacity, we have deployed a smart UPS solution of 40 kVA with complete electrical work in the rack of data centre.
Challenges –
Following are the consequences that has been effected the project under working –
Customer was looking for 90kva ups for his 80kva load.
Due to limited space for ups and batteries, there was an issue of maintaining & keeping UPS & Batteries at the separate place.
They were also looking for redundancy for critical applications.
Providing adequate power back up resource for critical applications was a major concern.
Why Innovation was required / Solutions offered –
UPS is the pioneer aspect for all organizational power back up concern. Whether a small or large sector, every sector require a sufficient UPS back up depending upon the load capacity required by them. Mean of a primary resource for power crunches & breakdowns, the renowned stock market has utilized this solution and has made their work even easier.
Conclusion –
We made this project successful on the basis of the following indications-
It facilitates to achieve 95% efficiency in double conversion mode and upto 98% eco mode.
Remote control and monitoring option made work more accessible.
Super overload capacity.
Advanced high frequency technology.
Wide input voltage range and frequency range.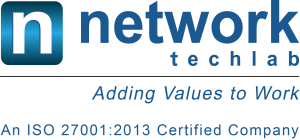 Network Techlab (I) Pvt. Ltd.
41, Sarvodaya Industrial Estate, Opp. Paper Box, Off. Mahakali Caves Road, Andheri East, Mumbai – 400093. India
P: 022-6681 4141 | info@netlabindia.com | www.netlabindia.com
Mumbai | Navi Mumbai | Ahmedabad | Vadodara | Vapi | Pune | Bangalore | Chennai | Goa | Delhi