Network Techlab India Private Limited implemented advanced Data Centre Infrastructure Management software for a prominent banking institution in India.
Network Techlab India Private Limited deployed a software to a leading Bank of India to optimize, enhance & monitor the power dynamics of their data center.
Organization:
A leading banking firm
Location:
Multiple Locations all over Maharashtra.
Domain:
Banking and Finance.
Solution Offered:
DCIM, IPDU, PUE Management.
Overview –
Due to advanced & multiple sector approach, the bank has high concentration in depository & loans & advances sectors, thus having the largest data centres for a complete vertical management. Since monitoring is required at an extreme level, bank asked us to deploy over a suitable yet optimizing software that can enhance monitoring & we delivered DCIM Software to them.
Challenges –
Need to track power losses in each rack.
Excess customization was required
Making client understand about technical concept was a major concern.
Identifying the heatmap in each room
Why Innovation was required / Solutions offered –
Provided the IPDU for their rack level power utilization.
PUE management & monitoring
Delivered the DCIM software to monitor all BMS devices.
Provided the multi-function sensors to monitor and maintain the room temperature and other parameter.
Benefits –
Efficiency: DCIM software optimizes data centre resources, reducing costs and improving performance.
Visibility: Provides a complete view of data centre assets, preventing downtime and enabling proactive decisions.
Capacity Planning: Tracks resource usage trends for efficient allocation and cost savings.
Security: Monitors access and environment, alerting to unauthorized entry or conditions.
Compliance: Assists in meeting regulations with audit trails and reports.
Conclusion –
Our tailored approach to data centre management, encompassing IPDU deployment, PUE management, DCIM software implementation, and environmental monitoring, serves as a robust foundation for the bank's ongoing success in the ever-evolving technology landscape. By combining these critical elements, Network Techlab India Private Limited has positioned the bank to achieve greater operational efficiency, sustainability, and resilience in their mission-critical operations.
Keeping that in mind, if you need a demo or have any query regarding any of our products, please feel free to connect with us.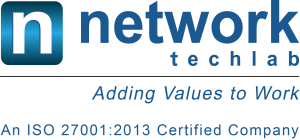 Network Techlab (I) Pvt. Ltd.
41, Sarvodaya Industrial Estate, Opp. Paper Box, Off. Mahakali Caves Road, Andheri East, Mumbai – 400093. India
P: 022-6681 4141 | info@netlabindia.com | www.netlabindia.com
Mumbai | Navi Mumbai | Ahmedabad | Vadodara | Vapi | Pune | Bangalore | Chennai | Goa | Delhi
Wan't to discuss your project? Contact us Today.