NTIPL's integrated Smart Data Center Solutions yields remarkable ROI for a leading Textile Company of India
Network Techlab Assisted A Leading Textile Company Of India with Smart Data Center Modular and Scalable Concept That Helped To Save Their Allotted CAPEX & Space.
Organization:
A Leading Textile Company
Location:
Hyderabad, India
Domain:
Manufacturing (Textiles)
Solution Offered:
Data Center Solutions (Smart Data Center)
Overview:
The client is A Leading Textile Company of India and one of India's fastest-growing global conglomerates with businesses in Line Pipes, Home Textiles, Infrastructure, and Steel. As globally recognized leaders in Home Textiles and Line Pipes, they have a presence in over 50 countries with a strong team of 26,000+ employees and over 100,000 shareholders. Its clients include companies operating in the Oil and Gas and Retail sectors such as Chevron, ExxonMobil, Walmart, and Target. A Textile Company provides many jobs in India improving employment.
Requirement:
Greenfield Project with faster implementation at Hyderabad remote offshore location
IT Room proposed area was larger than the actual requirement for the ITE
The larger room was increasing both the CAPEX and OPEX for a conventional Legacy Data Center
Involvement of multiple vendors, multiple coordination & thereby increasing project timeline
Scalability for future expansion was a challenge considering Conventional Data Center and present load condition
Solutions:
Vertiv Smart Solution with integrated Rack and In Row cooling with inbuilt Security systems
Smart Cabinet, Racks 3#, External UPS, Cooling Unit, Fire Suppression & Access, RDU
Dedicated rack-based cooling & fire suppression, helped to save 2/3rd of room volume & hence energy spent, costly NOVEC gas and interior work – saving both CAPEX and OPEX
Saving on immediate CAPEX helped to convince existing users
Smart Solution Comparison with Legacy Data Center:
Performance Parameters
Smart Solution
Conventional Legacy Data Centre
Cooling Approach
Dedicated Rack level In-row Cooling, with capacity modulation
Room Level Cooling
Power Availability
Provision for Rackmount UPS solution along with a battery
Separate Provision has to be made in Conventional system
Installation & Commissioning
Independent of the Site location takes less than a week
Site dependent takes more than 8 weeks
Reduced Go Live Time
No wet work at the site manufactured at the factory and assembled at site consistent quality
Fire detection & Suppression
Integrated Fire detection & Suppression, Designed exclusively for Smart Solutions
Room Level Fire Detection and Suppression (Expensive)
Monitoring
Rack-mounted Integrated Intelligent monitoring
Have to depend on Separate  Monitoring arrangement
Reduced Operational Cost through Monitoring
Remote Monitoring for Health, Performance and Utilization Reduction through resources saving
Space Utilisation
No Raised Floor requirement, takes optimal Space Integrated Cabinet approach,

High density with flexibility can grow with your business

Raised Floor / Ceiling is required
Modularity
It is offering with high modularity to suit future changes
Design is site-dependent & varies from case to case basis
Access Control
Provides Integrated Biometric Access control which offers better security
The separate arrangement is required for providing access control
Relocation
Possible, Very Easy, Relocation with 100% Parts
100% Parts  movement may not be possible
Freedom to mount the solution
It Can be installed in any environment
Separate Room is required
Magnetic Lock door
Magnetic lock door  which will open automatically in case of emergency
No such provision will require a separate arrangement
Energy Efficiency
Digital scroll technology cooling, design optimization makes it energy efficient Solution.
Digital Scroll cooling Technology – Variability from 20% to 100%
Containment Approach (Cold aisle & Hot aisle containment)
Depends on the overall design of DC facility
 Results:
Smart Solution with modular and scalable concept helped to save their allotted CAPEX & Space
Energy-saving through both Hot & Cold Aisle containment is more than single Hot or Cold Containment
RDU based monitoring helped to connect with Global team and facilitate remote access
Centralized monitoring enabling comprehensive reports to share with global management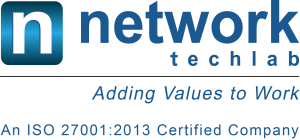 Network Techlab (I) Pvt. Ltd.
41, Sarvodaya Industrial Estate, Opp. Paper Box, Off. Mahakali Caves Road, Andheri East, Mumbai – 400093. India
P: 022-6681 4141 | info@netlabindia.com | www.netlabindia.com
Mumbai | Navi Mumbai | Ahmedabad | Vadodara | Vapi | Pune | Bangalore | Chennai | Goa | Delhi