Network Techlab provided a one stop solution for the entire Infra of the NBFC Organization with IIMMAACC Solutions.
NTIPL Assisted One Of The Leading NBFC Organization In India To Revamp Their Data Center For Its Corporate Location
Organisation
NBFC Organisation
Location
India
Domain
NBFC
Solutions Offered
I2M2A2C2
Overview
The leading NBFC organization in India clearly communicated that our first challenge is to restore the data center on a sequential basis, we have only 24 hrs of work window to finish the essential civil, electrical & other work to complete on time & start the production services.
Earlier, this organization was using 30 kVA Model UPS having less backup time & Vertiv (Emerson – Liebert) 3.5 ton cooling for the entire data center & electrical room. We found that there is no Air Distribution Effectiveness, Data Center Electrical Infrastructure & Facilities Analysis.
In order to move, first, we measured the exact data center electrical infrastructure load. Datacenter power and cooling utilization. We identified key infrastructure constraints that inhibit full space utilization & to extend the Datacenter service life.
On the basis of risk analysis, we isolated this in two parts – Data Centre & Electrical room.
Datacenter design expressed in the format of a floor plan. We introduce standardized workings into the design process. Provided a floor plan, describing average hot and cold aisle temperatures.
Objective
Our main objective was to create benefits in their Physical Infrastructure that will streamline and simplify every process from initial planning to daily operations.
Scope of work
The isolated Datacenter which included Raised flooring (600 x 600 mm size) Ceiling with floor Insulation
Isolated Electrical room flooring with Main DC LT panel- Incomer Feeder – 125 Amp MCCB
Vertiv 7400M 40 kVA – 2nos UPS along with 100 AH x 34nos Quanta batteries with SNMP card
Vertiv PEX 120EC 5.5TR with iCOM for cooling
Dedicate data center maintenance free chemical earthing
Challenges
Once actual commissioning is completed, a trending report is issued. This report includes a summary of identifiable system performance trends. The summary also contains a system description, highlights issues that were encountered and resolved, the commissioning documents should be placed into the data centers. Library of procedures and practices.
Before revamping, electrical equipment & dc were combined in one place
Earlier this organization was having 30 kVA single m-model ups having less backup time and stability
Before the revamp networking rack & cables movement were not in a structured form.
Solutions
Power and Backup Solutions
We isolated the UPS & the electrical rooms from DC. After revamping of Data Center, we provided Emerson 7400M 40 kVA – 2nos UPS along with 100 AH x 34nos Quanta batteries – 2 sets, with 1 hour backup for Data Center equipment. This UPS provides excellent local communications through its LED-based mimic diagram and LCD panel. While the mimic shows the live power path, the back-lit contrast-adjusting LCD provides detailed data on the unit and the system through a user-friendly menu.
In these UPS we have an advanced battery management system with programmable battery testing which constantly monitors the health of the battery pack keeping the battery ready to work for emergency situations.
Also, we have an SNMP card installed on both the UPS and connected it to the organization's local network that provides monitoring of UPS parameters and alarms remotely through any workstation connected to the network by simply entering UPS IP address.
Precision Cooling Solutions
We provided Vertiv PEX 120EC 5.5TR with the iCOM board. With the new Model of PEX having iCOM board (iCOM – Intelligent Communications and Monitoring) control system, it offers the highest capabilities of unit control, communication and monitoring of Liebert mission-critical cooling units. Liebert iCOM provides advanced diagnostic and maintenance support, enabling multiple units to communicate and work together as a team to precisely control temperature and humidity across a room.
With two PACs (one working, one standby configuration) synchronized with each other provides cooling of the data center with single PAC running for 24hrs.
Data Center Flooring
In civil scope, we provided raised flooring and false ceiling for entire DC and electrical rooms.
It also included the separation of Data Center and Electrical room with the use of partition wall having Air Control Damper below the raised floor for efficiently using the cooling airflow of PAC in the electrical room.
The type of raised floors which we used includes Stringed and Structural jacks.
• Stringed Raised Floors — a vertical array of steel pedestal assemblies (steel base plate, tubular upright and ahead) uniformly spaced on 2-foot centers and mechanically fastened to the concrete floor.
We implemented the use of Cold Aisle Containment in Data Center which gives efficient use of cooling circulation and in turn saves power.
Air Control Damper for high-density racks
Along with CAC, we used Air Control Dampers which provides air circulation beneath the raised flooring.
Electrical room modifications
We provided LT Panel having load balance distributed at all the 3-phases. A user-friendly LCD display and LED indicators on the LT Panel to show the present electrical parameters which give an idea for the amount of power being consumed. Two separate raw electrical power sources have been connected to the Panel.
In the LT Panel, we also provided ATS (Automatic Transfer switch) which at the times of power failure at one source automatically changes over to other sources. Now no need to manually change-over between sources during power failures.
Dedicated Panels have been provided for Lighting and Raw distribution of power along with proper naming for all the switches and MCBs.
Proper cable dressing inside the Cable trays for Power as well as Data cabling has been done which was not there before revamp.
Dedicated earthing has been provided for Data Center by means of digging new earth pit by using a chemical earthing method which is maintenance-free.
Benefits and Conclusion
Parameter
Old Design
New Design
Space Utilization
No Space for Future Expansion.  Maxi 4 Racks Accommodation
Space created for the further rack expansion.  Total 6 Racks
Accommodation possible.
Vendors Accessibility to DC Area
DC , UPS & batteries in Same Area
Isolation of UPS & batteries from the DC hall Area
Cold Aisle Containment  (CAC)
No CAC. Leads to Loss of Cooling Efficiency
Implementation of CAC leads to Effective utilization of Cooling & in turn power saving.
Power Change Over
Manual Change Over incase power Failure
Auto Change Over by ATS
UPS System
Single UPS without Redundancy
Two UPS System in redundancy using Static Switch Till Rack level
Earthing System
No Dedicated Earthing for DC hall area. Tapped from the common Earth pit.
Dedicated Earthing System for DC hall & Ancillary Equipment.
Cable Dressing
Power As well Data are loose lay below the False Floor or Above Ceiling
Proper cable dressing Inside the Cable trays for Power as well as Data cabling.
Rack Power Sockets
Industrial power Sockets
Power Distribution
No dedicated power dist. For DC hall area. Utility power as Feed by Office
Panel
Dedicated Panels RPDB / Lighting DB  for the DC hall area from the DC LT panel
Lighting
Implementation of Energy Efficient T5 Lighting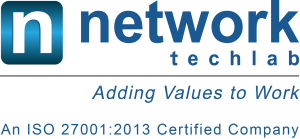 Network Techlab (I) Pvt. Ltd.
41, Sarvodaya Industrial Estate, Opp. Paper Box, Off. Mahakali Caves Road, Andheri East, Mumbai – 400093. India
P: 022-6681 4141 | info@netlabindia.com | www.netlabindia.com
Mumbai | Navi Mumbai | Ahmedabad | Vadodara | Vapi | Pune | Bangalore | Chennai | Goa | Delhi | Kolkata
Wan't to discuss your project? Contact us Today.