Network Techlab (I) Pvt. Ltd. built a smart data center for a developing bank of India.
Network Techlab Aided An Emerging Financial Institute Take The Next Step In Corporate Digitalization By Deploying The Next-Gen Technology In Data Protection And Management Which Is Integrated Data Center "Smart Cabinet"
Organisation
Growing Bank Of India
Location
Pune
Domain
Banking And Finance
Solutions Offered
Integrated Data Center "Smart Cabinet"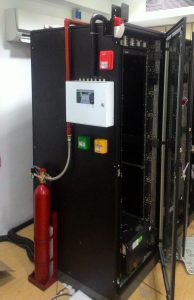 Overview
This Bank situated in Pune was established in the year 1972 with the noble aim of taking the Bank and the Banking to the common people by adopting the principle of cooperation in Banking. And the same has been fulfilled up to a great extent and now the bank is developing as a large bank with the use of the latest technology and infrastructure and best customer service. The bank has made exceptional progress and is developing its strength in various locations.
Challenges
NTIPL got the opportunity to work with one of the growing banks in India to build Data Center at their HO at Market Yard, Pune. This is a phase-wise project which is divided into 2 phases. Our Phase – 1 started with the creation of a Temporary Data Center where Smart Cabinets would be installed and tested for around 2 months. This includes the dismantling of the entire room allocated for Temporary DC Setup and then leveling the floor and painting the walls and then building of LT Panel and Earthing dedicated for DC. Once Phase -1 is completed, servers and switches would be mounted and tested by banks IT Team. After the testing period is successful, we will proceed with Phase – 2 of the project. It will involve the removal of existing racks and PAC kept inside the actual DC Room, flooring, ceiling job and installation of Split AC. Once the permanent DC room is ready, the Smart Cabinets will be shifted inside.
The Building Of A Temporary Data Center
In Phase – 1, we had to build a Temporary Data Center at the existing Infra / IT room. The whole process was subdivided into phases which involved:
Dismantling of existing setup at Infra / IT room.
Civil Work.
Electrical Work.
Providing cooling solutions for the Data Center.
Final Data Center is ready.
Mounting and installation of Smart Cabinets SC13AC – 3nos.
Features
Operates on 220V, A.C supply
Battery backup with built-in charging.
16 X 2 LCD Dot Matrix Display.
Evacuate and Keypad Enable, Disable Facility.
Two-mode operation facility (Auto / Manual).
Programmable Solenoid Output with ON and OFF Timer.
Programmable Main / Standby Cylinder output Facility.
Gas Inhibit and Instant release facility.
Manual Gas Release with or without the timer.
Conclusion
With this we have completed our Phase – 1 of the DC Build up Project. Now the Smart Cabinets are ready to go with Network and Server switches and being tested by the Bank IT authorities.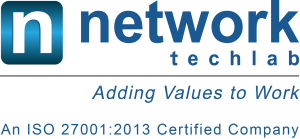 Network Techlab (I) Pvt. Ltd.
41, Sarvodaya Industrial Estate, Opp. Paper Box, Off. Mahakali Caves Road, Andheri East, Mumbai – 400093. India
P: 022-6681 4141 | info@netlabindia.com | www.netlabindia.com
Mumbai | Navi Mumbai | Ahmedabad | Vadodara | Vapi | Pune | Bangalore | Chennai | Goa | Delhi | Kolkata
Wan't to discuss your project? Contact us Today.