Network Techlab (I) Pvt. Ltd. helped the company Boardrooms deliver interactive video-conference meetings worldwide by sharing and marking the instant changes in the PPT using our Samsung Flip which acts as a whiteboard and also an interactive touch-board.
The Pharmaceutical company boardrooms have changed from the conventional boring office meetings into a digital and interactive one. This imagination and purpose was fulfilled by Network Techlab.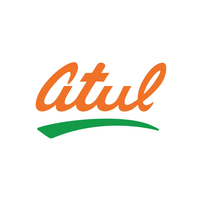 Organisation
Atul Limited
Location
Maharashtra & Gujarat
Domain
Pharmaceuticals
Solutions Offered
Digital Interactive E-Board – Samsung Flip
Overview
Atul is an improvement driven and an integrated chemical company serving about 6,000 customers belonging to 31 industries across the world. The Company has established subsidiary companies in the USA (1994), the UK (1996), China (2004), Brazil (2012) and the UAE (2015) to serve its customers and thus enhance the breadth and depth of its business.
With in depth expertise in Science and Technology, Atul manages almost all unit processes and operations to manufacture about 1,350 products and formulations. And has state-of-art facilities and processes to ensure the safety and treatment of gaseous, liquid and solid pollutants. The Company is ISO 14001 certified. Atul established successful joint venture companies with world-renowned multi-national companies namely American Cyanamid Company (now a part of BASF AG and Pfizer Inc) in 1947, Imperial Chemical Industries plc (now a part of Akzo Nobel and Astra Zeneca plc) in 1955 and Ciba-Geigy Ltd (now a part of BASF AG and Huntsman Corporation) in 1960.
Atul was founded on September 15, 1947 – exactly a month after Indian independence – by Kasturbhai Lalbhai, an institution builder par excellence and a legendary Indian of his times. The Company was a manifestation of his dream to generate large-scale employment, create wealth in rural India and make the country self-sufficient in its requirements of chemicals.
Challenges
Boardrooms are places where interactions in the meeting are discussed, which needs to be passed to each and every person. In order to make a meetings interactive and lively, the customer had asked for some solution moreover a requirement.
Why there was a need to innovate ?
The implementation of this solution creates a relationship among the employees. This digital e-board can recall the changes made during the previous meetings. Since Samsung Flip had a portable stand, the same can be shifted from one room to another with ease. They had used 22 Nos. Samsung Flips in their boardrooms across Maharashtra and Gujarat which gives them increased efficiency in their meetings. They were facing some issues in big boardrooms while using 55" screen. So due to added features like Screen sharing, they can also share the data on the bigger screen.
Conclusion
NTIPL has provided to the customer an extended possibility to innovate over conventional methods into Digitalization by using digital E-board. Samsung Flip helped the company to make the meeting rooms work more efficiently and interactively.

Network Techlab (I) Pvt. Ltd.
41, Sarvodaya Industrial Estate, Opp. Paper Box, Off. Mahakali Caves Road, Andheri East, Mumbai – 400093. India
P: 022-6681 4141 | info@netlabindia.com | www.netlabindia.com
Mumbai | Navi Mumbai | Ahmedabad | Vadodara | Vapi | Pune | Bangalore | Chennai | Goa | Delhi | Kolkata