Geist Rack PDU
Geist Rack PDUs will ensure your edge infrastructure is powered reliably and efficiently from the beginning.
Being in association with Vertiv for such a long time as their Enterprise Business Partner, we offer all the latest technological products that include a wide range of Monitored and Switched rPDUs equipped with a network interface to allow for remote monitoring, management, and automated alerts. These units offer important insights on how to improve Data Center Energy Efficiency while enabling you to prevent downtime, providing notifications when user-specified thresholds for Power and Environmental conditions are breached.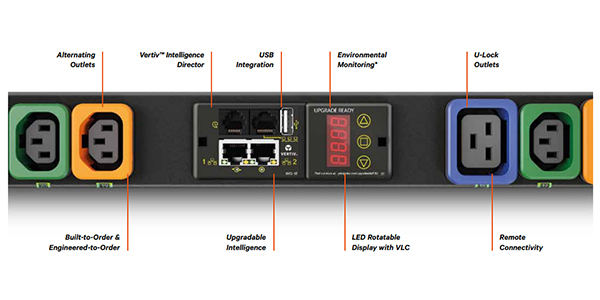 Best Suited For:
Banking, Financial and Insurance | Broadcast, and Entertainment | Construction and Engineering | Data Center/Colocation/Hosting \ | Education | Government | Manufacturing | Military, Defense, Aerospace and Missile | Power Generation, Power/Gas Transmission and Distribution | Professional Services | Retail and Wholesale | Telecom
Enhance business agility, efficiency and availability with our Geist Rack PDUs
Configurations include switched, monitored and basic rack PDUs
60°C working ambient variants for high-temperature environments
Compact size to install in tight spaces
Color-coded U-Lock receptacles to secure power cords and avoid accidental disconnections
Increased efficiency, reduced energy costs
Monitor and manage critical power data in your facility
3-year warranty, 5-year warranty if registered after purchase from the manufacturer
Expert support and service with the Distribution Assurance Package
All our Data Center products are produced with a mindset of reliable and efficient and that has made it possible to produce high-quality products while providing you with superior service and value. Whether it is providing excellent customer service or implementing new technologies, NTIPL promotes innovation, quality, and satisfaction in all aspects of the business.