The Leading Co-operative Bank detects advance threats and enables zero day protection.
Network Techlab helps in the easy operation of threat management, detection and prevention. Gets enterprise-wide visibility and deep analytics they need to stop attacks.
Organization:
Co-operative Bank
Location:
Mumbai, Maharashtra
Domain:
Banking and Finance Industry
Solutions Offered:
Managed SOC Services
Overview
The bank is a one of the leading co-operative banks in Mumbai and well-known in the banking industry for providing a wide range of Banking & Financial services. They take in all-inclusive valuable treasury and put it to use for all Banking units as well as end customers. Such a tentative banking unit necessitates a large and deliberate working environment with cutting-edge working applications and system software.
The Challenge:
The customer was using a premise solution previously due to which threat updates weren't happening properly also there was a lot of manual work involved in to it. Being in to an on-premise solution there was limited protection from the latest threats. There was a need of Zero-Day protection which was not able to be fulfilled by the existing solution. Software needed to be Installed on different platforms such as windows, MAC and Linux with multiple variants along with various software versions.  There were frequent errors such as Agent Disconnection and Compilation Matrix. Systems were showing protected on tenant but unprotected on the endpoint. Many times agent was not getting installed on the system and leaving some systems unprotected increased the chance of vulnerability.
NTIPL Solution:
After looking at the challenges and after listening to overview from customer, Network Techlab provided solution to address these challenges. We provided with integrated solution Cortex XDR endpoint solution. Solution which we provided takes less deployment time. This reduces the need to deploy new on-premises log storage or network sensors.
We have installed Cortex XDR agent in the cloud environment that ease the deployment to containers. By integrating multiple services together such as compatibility matrix, Proxy server connectivity, systems services troubleshooting and cleaning previously installed agents and residues.
Benefits:
Streamlined deployment without on-premises log storage or network sensors
Banks can stop now stop evolving threats with a single cloud-delivered agent
Cortex XDR WildFire integration enables analysis and for zero-day protection
User Entity Behaviour Analytics &  Network Traffic Analysis is possible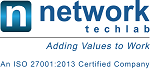 Network Techlab (I) Pvt. Ltd.
41, Sarvodaya Industrial Estate, Opp. Paper Box, Off. Mahakali Caves Road, Andheri East, Mumbai – 400093. India
P: 022-6681 4141 | info@netlabindia.com | www.netlabindia.com
Mumbai | Navi Mumbai | Ahmedabad | Vadodara | Vapi | Pune | Bangalore | Chennai | Goa | Delhi | Kolkata