VRV System
In general, VRF technology provides the ability for multiple indoor units or zones to operate on the same system. VRF systems can either be a heat pump system or a heat recovery system, which provides simultaneous heating and cooling.
The term VRF indicates the ability of the system to vary and control the refrigerant flow through multiple evaporator coils to provide individual temperature control in various mechanical comfort zones.
VRF systems act as multi-split systems, connecting multiple indoor units with one centralized outdoor condensing unit assembly, providing simultaneous heating and cooling and heat recovery in various zones as follows:
The VRF heat pump system provides heating and cooling for all indoor units at a specific time (see Figure 1)
The VRF system provides non simultaneous cooling and heating at any time
Heat-recovery systems provide simultaneous cooling and heating as well as heat recovery, transferring the energy from cooling zones to heating zones of the building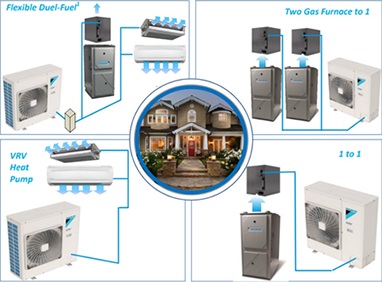 All of the above features are accomplished by VRF-enhanced technology using:
Variable-speed and capacity-modulated inverter duty compressors
Outdoor fans with variable frequency drives motors
Indoor units with Electronically Commutated Motors (ECM).
Key Applications
Heat pump systems are used in restaurants, lobby areas, clubhouses, or religious facilities where there is a defined cooling or heating mode of operation. All indoor units will operate in either cooling or heating mode (non-simultaneous).
Heat pump systems with heat recovery are used in historical buildings, schools, office buildings, assisted living facilities, hotels, banks, and other commercial buildings where simultaneous cooling and heating is a design requirement.
Key Benefits
Increased energy efficiency and energy savings, for an average of 20% to 30% energy savings relative to variable air volume systems with reheat and constant air volume systems with gas heat
Very good part-load performance due to inverter-duty variable-speed compressors modulating the capacity from 10% to 100%
Good zoning control, providing simultaneous cooling and heating with heat recovery
Reduced ductwork and duct losses are confined to the ventilation air system (approximately 20% of the conventional HVAC system).
Reflection and growing market realization that envisaging and planning any project without actually executing it led to the birth of Network Techlab – a one-stop point which provides with turnkey Solutions to various verticals like Residential, Commercial, Data Centers and Pharma projects. Vision and progress, has led to inspiration within ourselves to move to the next level by handling projects requiring magnanimous implementation, execution and value. The company today has a dedicated group of people who have expertise in Designing and executing numerous projects to the satisfaction of Architects, Engineering Consultants & Clients.
NTIPL takes pride in crediting itself under one roof of housing excellent engineering skills, uncompromised quality control, superior machinery, ingenious project team and dedicated erection & commissioning team and a large team for after sales service and spares and for the AMC undertaken.