Chiller System
A chiller is a machine used to produce chilled water for air conditioning or process cooling in large facilities. Most chillers operate using vapor compression, and there are four basic types: reciprocating, centrifugal, screw, and scroll.
A chiller works on the principle of vapor compression or vapor absorption. Chillers provide a continuous flow of coolant to the cold side of a process water system at a desired temperature of about 50°F (10°C). The coolant is then pumped through the process, extracting heat out of one area of a facility (e.g., machinery, process equipment, etc.) as it flows back to the return side of the process water system.
Chillers are used commercial and in industrial facilities to cool fluids and dehumidify air in larger venues, such as factory floors, arenas and larger facilities like hotels.
Key Advantages
Enormous cooling output: A chiller can provide powerful cooling levels considering its reduced costs to run: depending on size, a chiller can provide between 180,000 to 18,000,000 BTUs of cooling per hour, making them ideal for large industrial spaces that standard air conditioners simply cannot handle.
Reduced costs: Chillers circulate water; Water chillers are also more effective than water towers when it comes to summer operation, and will cost much less to run.
They are often used in the plastic industries, injection and blow molding, metal working cutting oils, welding equipment, die-casting and machine tooling, chemical processing, pharmaceutical formulation, food and beverage processing, paper and cement processing, vacuum systems, X-ray diffraction, power supplies and power generation stations, analytical equipment, semiconductors, compressed air and gas cooling.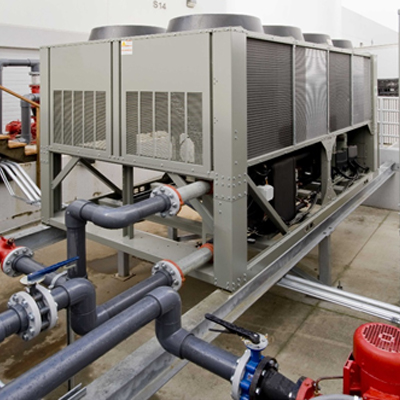 Chillers for industrial applications can be centralized, where a single chiller serves multiple cooling needs, or decentralized where each application or machine has its own chiller.
We are providing expert service across India all your chillers in commercial/HVAC needs. Our range of services include complete repair, installation of chillers and even regular servicing of all brands across the country.