Leading Pharma Company goes live with huge data cables & seamless Wi-Fi.
Network Techlab deployed project for leading Pharma Company. Runs factory with a strong wireless network, ensure the highest uptime with precision cool & fiber connectivity
Organization:
Leading Pharma Company
Location
Gujarat
Domain :
Pharma
Solution Offered:
Structured Cabling Solution
Wi Fi
Smartrack for DC
Products:
Fiber Cables
LIU
Patch Cords
Trans-receiver
Cables
PAC
Wi Fi Acess Points
Overview:
This is a 59-year-old leading healthcare company which is bean as a Joint venture. The Company offers API's, Fi Fixed Dosages Formulations (FDF), Peptides, Biosimilars and Injectable. These are manufactured in our cGMP-compliant plants located in India. The company sells products in 65 countries; contributed 82% to the revenue and the rest was from the export of APIs and Finished Dosages.
Challenge:
The company has multiple branches and plants across the locations; they wanted to deploy multiple solutions in their factory environment. We got the opportunity to work on the plant situated at the remote location of Gujarat and need to set up 1100 nodes of cabling for their users and factory premises. Fiber connectivity needed to be a setup up with a redundant line to avoid downtime. Into wide plant making, substations and hub were quite challenging. Frequent changes in data points created a hassle for our team as we needed to do bunching and tagging for every bunch of cables as well as which was leading to increased downtime. Live working space was a little difficult to work in as we need to seek permission at every moment and this was a time-consuming job.
Solution:
As this site was quite huge we have done the site visits and designed with solutions for multiple project lines such as a Structure Cabling, Setting up Wi-Fi Network and Datacentre Racks with precision cooling technology. Right from the designing phase to the deployment of the project we have done several meetings, planned well and deployed this project with respective timelines. We have done an extensive site survey so that no data points should loose behind and finally reached up to 1100 points of cable termination ranging from different connectivity.
Fluke testing was done on all cables to ensure that there are no issues with the connectivity. Further detailed documentation is presented to the company to make them understand points and connectivity.
Benefits Achieved:
24×7 connectivity for the factory environment and its users
One go deployment of 1100 points along with Fibre Connectivity
Kick-Off report and detailed documentation for future
Ensured connectivity with proven tools such as a Fluke Testing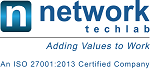 Network Techlab (I) Pvt. Ltd.
41, Sarvodaya Industrial Estate, Opp. Paper Box, Off. Mahakali Caves Road, Andheri East, Mumbai – 400093. India
P: 022-6681 4141 | info@netlabindia.com | www.netlabindia.com
Mumbai | Navi Mumbai | Ahmedabad | Vadodara | Vapi | Pune | Bangalore | Chennai | Goa | Delhi | Kolkata