Elitehubs.com enhanced customer service experience through surveillance solution
Network Techlab delivered a future-ready video surveillance solution to Eleitehubs, enhanced customer experience and derived value of premium price.
Organization: Eleitehubs.com
Location: Mumbai.
Domain: Computer and IT
Solution Offered: Video Surveillance
Products:
Axis Communications CCTV
Structure Cabling
NVR and Storage
Overview:
Established in 1992, Apex Softcell provides solutions through Innovative products focused on the capital market and financial industry. Elitehubs.com is a sister concern company of the Apex Softcell which deals in Hardware and Peripherals for Gaming PCs. They are also into repairing the Gaming PCs, Applications Installation and many more. They were looking for a surveillance and monitoring solution which would enhance their operations and deliver a flawless customer service experience.
The Challenge:
As mentioned above Elitehubs.com deals in to variety of computer gaming devices, peripherals and repairing services.  They are selling their products online as well as offline in their store. Ecommerce platform like Amazon need video proof while packing order from any sellers, in order to comply this they required crisp-clear surveillance video that could easily accessible for future ref and find out tampered events.  Along with this Company wanted to enhance customer experience of the repair services where 100% transparency will be provided to their customers. So they rest assured about their products are 100% safe and not been diluted anyway.
They were looking for an excellent solution which could deliver a better video footage to find out events and enhance customer experience.
NTIPL Solution:
In order to provide a solution, NTL team has visited site and designed a solution for Elitehubs.com. As they wanted a crisp clear video footage, that wasn't possible with an ordinary CCTV manufacturer. We understood this quickly and suggested them the finest quality CCCTV camera from Axis Communications. Convincing company management was never easy as there was a lot of price difference. However, we were able to convince the value proposition and they also understood the business value they will get from the suggested surveillance solution.
Here the primary objective is taken into consideration is service quality and transparency they keep in their repair services. The company went beyond the traditional approach and paid a premium price to get these results.
Benefits:
24×7 Monitoring and surveillance
Transparent & enhanced customer service
On-demand video footage to track events
Compliance ready surveillance environment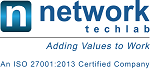 Network Techlab (I) Pvt. Ltd.
41, Sarvodaya Industrial Estate, Opp. Paper Box, Off. Mahakali Caves Road, Andheri East, Mumbai – 400093. India
P: 022-6681 4141 | info@netlabindia.com | www.netlabindia.com
Mumbai | Navi Mumbai | Ahmedabad | Vadodara | Vapi | Pune | Bangalore | Chennai | Goa | Delhi | Kolkata