Inverters
Owing to the rich industrial experience and expertise as Inverter Dealers, we are involved in providing a supreme quality array of inverters. We are engaged in the business of supplying the highly demanded inverters from top manufacturing brands to our clients across the nation. Our offered range is designed and developed by making use of quality tested raw material in accordance with the predetermined industry norms
An inverter increases the DC voltage, and then changes it to alternating current before sending it out to power a device. One can't use straight direct current without the AC to DC inverter because the device's power supply needs the AC power in order to properly step down and regulate the voltage.
The inverters are vital since they comes with high over-load handling capacity, Installation and maintenance friendly, Advanced battery management which enhances battery life up to 70% and Intelligent battery charging mechanism.
Our range of Inverters comprises of both single phase and 3 phase from 650 VA to 200 kVA with 2 years of manufacturer warranty.
Single Phase Inverters
Three Phase Inverters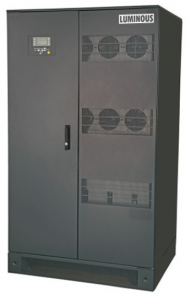 Key Applications
Industrial Units | Hospitals | Manufacturing Units | Elevators | Hotels | Shopping Malls | Educational Institutions | Corporate Offices
NTIPL as a system integrator provides the right solution for all your power and backup requirement. We have well experienced engineers to install all types of inverters. Our aim is to satisfy essential needs of customers with best of our services. We are best Inverter dealer across the nation with an experience of more than decades. We are specialised in inverter batteries and UPS batteries with authorisation certificate.