Solar Street Lights
Network Techlab is one of the prominent Solar Street light dealers in India whose expert engineers provide high-quality illumination for your outdoor premises. Our solar street lights are highly efficient, better quality and long lasting. This solution helps you save on electricity bills using the Power of the Sun. Here are some of the features of our Solar Street Lights.
Working and Schematic Representation
These lights use solar energy, a form of the renewable energy, thereby photovoltaic cells convert solar energy into electrical energy, which is stored in the battery
In the night time, the lamp starts automatically and it consumes the electricity already stored in the battery
During the day time the battery gets recharged and the process keeps on repeating every day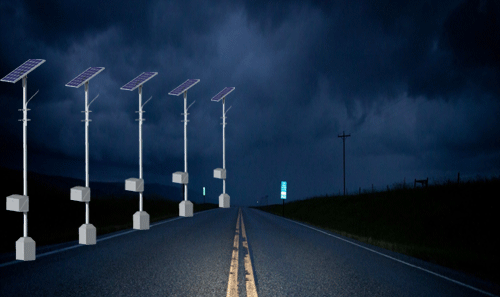 After Sales Service and Support From NTIPL:
Luminary
Pole
Battery
Battery Box
Solar Panel
Wire Cable
Key Applications:
Solar Street are mainly installed in fields like:
Residential Society Premises
Public / Government Streets
Gardens
Hospital Premises
Industrial Premises
Other Outdoor Spaces
We have established ourselves as an eminent name in offering a no. of solar street lights. Our products are manufactured with the best quality of materials and we provide the best Onsite Quality Service Support and the Complete Quality of project Installation.