On-Grid Solar Systems
It is the process of Solar Power Generation in coordination with the utility grid where the produced electricity is routed to the grid from where it is used to run the various appliances.
Working and Schematic Representation
In an On-grid system, when the electricity reaches the switchboard below are actionable activities:
The Meter: Excess solar energy runs through the meter that calculates how much power is either exported or imported
The Electricity Grid: Electricity that is sent to the grid from the solar system that can then be used by other consumers on the grid. When your solar system is not operating or you are using more electricity than your system is producing; you will start importing or consuming electricity from the grid.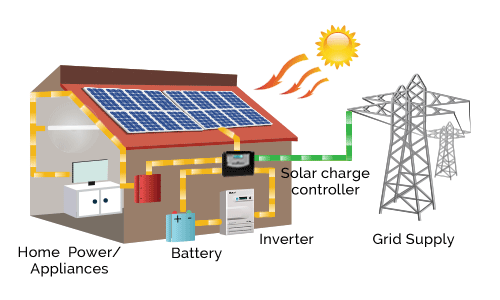 After Sales Service and Support From NTIPL:
Solar Panels
Solar Inverters
Cables and Connectors
Mounting Structure
AC Distribution Box / DC Distribution Box
Earthing
Lightning Arrestor (Optional)
Complete Installation
Key Applications:
The on-grid solar system are prominently used in the area like:
Metro cities
AB grade cities
Locations with lesser Power Outages
Network Techlab is one of the prominent and best integartor of on-grid solar systems providing onsite quality service support, branded equipments and complete quality installation of the project.