Off-Grid Solar Systems
An Off-grid system is not connected to the electricity grid and therefore requires battery storage. This system must be designed appropriately to generate enough power throughout the year and have sufficient battery capacity to meet the requirements, even in the depths of winter when there is less sunlight.
Working and Schematic Representation
The off-grid solar system work as per the below steps:
The Solar Photovoltaic system is not connected to the utility grid and you are producing your own electricity via solar
These systems will generally have a battery bank in order to store the electricity for use when needed
When the grid goes down, instead of shutting off completely; the system switches to an alternate inverter, which is designed to interact with a battery bank, letting you run household loads off the battery bank and charge them with the Solar panels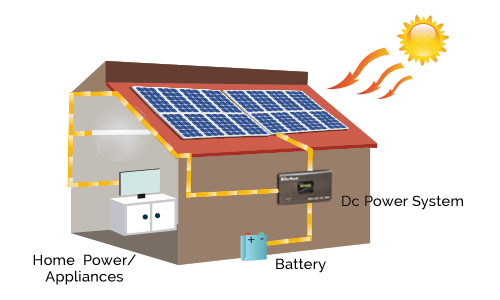 After Sales Service and Support From NTIPL:
Solar Batteries
Solar Panels
Solar Inverters
Cables and Connectors
Mounting Structure
AC Distribution Box / DC Distribution Box
Earthing
Lightning Arrestor (Optional)
Complete Installation
Key Applications:
The off-grid solar system are prominently used in the area like:
Remote locations
Locations with no grid power supply
NTIPL is the best service and support provider of off-grid solar systems with quality onsite support, branded equipments and complete installation of the project.