Hybrid Solar Systems
Hybrid Solar systems combine the best from grid-tied and off-grid solar systems which systems can either be described as off-grid solar with utility backup power, or grid-tied solar with extra battery storage.
Working and Schematic Representation
In Hyrid Solar System, when the electricity reaches the switchboard below are actionable activities:
Battery Bank: In a hybrid system once solar power is used by the appliances, any excess power left will be sent to the battery bank. Once the battery bank is fully charged, it will stop receiving power from the solar system. The energy from the battery can then be discharged and used for power consumption, usually during the peak evening period when the cost of electricity is typically at its highest.
Meter and Electricity Grid: Depending on how your hybrid system is set up and whether your utility allows it, once your batteries are fully charged, excess solar power not required by your appliances can be exported to the grid via your meter. When your solar system is not in use, and if you have drained the usable power in your batteries your appliances will then start drawing power from the grid.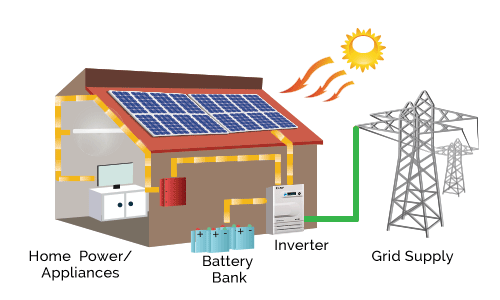 After Sales Service and Support From NTIPL:
Solar Batteries
Solar Panels
Solar Inverters
Cables and Connectors
Mounting Structure
AC Distribution Box / DC Distribution Box
Earthing
Lightning Arrestor (Optional)
Complete Project Implementation
Key Applications:
The Hybrid solar system are prominently used in the area like:
Metro cities
AB grade cities
Locations with frequent power outages
Being the hybrid solar system industry leaders in project consultation and installation, NTIPL provides the best onsite quality service and support, quality, branded and durable equipments.