Isolation Transformers
It is used to transfer electrical power from a source of alternating current (AC) power to some equipment or device while isolating the powered device from the Power source, usually for safety reasons.
Isolation Transformers are designed with an attention to capacitive coupling between the two windings. The capacitance between primary and secondary windings would also couple AC current from the primary to the secondary. A grounded Faraday shield between the primary and the secondary greatly reduces the coupling of common-mode noise. This may be another winding or a metal strip surrounding a winding. Differential noise can magnetically couple from the primary to the secondary of an isolation transformer, and must be filtered out if a problem occurs.
Key Applications:
Isolation Transformers are recommended with UPS (Input and Output)
Machines with heavy Load in sectors like Healthcare, Pharma, Manufacturing
Supply of equipment at elevated potentials
Pulse transformers
Electronics Testing
After Sales Service and Support From NTIPL:
Isolation Transformer
Onsite Technician for Installation
1 Year manufacturer Warranty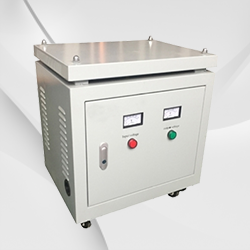 With the latest design and state of art of technology incorporated, NTIPL's Isolation Transformers senses the high rise or losw dip of the input voltage and automatically provides stable output voltages, there by protecting these machines.