High Performance KVM
Enhanced Speed and Enactment with High-Performance KVM Switches
High-Performance KVM switches allow instant access to control room systems from local and remote locations. They can connect many users to several servers and workstation equipment at any time while delivering high definition video, audio and USB performance for diverse applications in Government, Broadcast, Post Production, Enterprise Data Centers, Industrial and Transportation environments.
These KVM switches provide organizations improved efficiency and reduced cost by putting important and expensive resources in rooms and making users share them. With a streamlined interface, they enable centralized configuration, maintenance and user-role setup. They improve the work environment by removing users from hot or noisy equipment while still giving "at the PC" experience for demanding high-resolution and no latency applications.
These switches are compatible with LDAP and other user authentication frameworks. They have a group and device permission management, event notifications and improved auto failovers to reduce risks and costs.
High-Performance KVM switches meet the need for seamless access and optimal performance in demanding environments.
Best Suited For:
Banking, Financial and Insurance | Broadcast and Entertainment | Chemical/Petrochemical (excl. Oil & Gas) | Data Center/Colocation/Hosting | Education | Government | Healthcare | Military, Defense, Aerospace and Missile Nuclear Power | Oil and Gas Transportation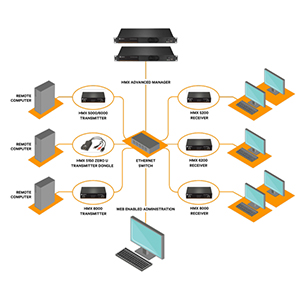 There are various types of High-Performance KVM Switch like:
The Avocent HMX solution allows customers to build a video and/or KVM matrix of infinite size and flexibility using a standard 1 GB/s network and a combination of:
Transmitters
Receivers
Management servers
A fusion of performance and speed for new levels of content creation, production and delivery
The Avocent® Matrix High-Performance KVM is the next-generation version of Avocent High-Performance KVM products. It leverages the experience Vertiv™ has gained with the Avocent AMX™ and HMX product lines to create the best-of-breed platform. This unified approach enables the Avocent Matrix to combine the instantaneous switch time of the Avocent AMX system with the digital quality and advanced management features of the Avocent HMX system.
NTIPL helps to employ a KVM switch that provides benefits like: Multiple computers/server control: Users can have quick, easy access to 2, or even much more, PCs or servers from their keyboard, monitor, and mouse setup. Reducing clutter: Cutting down on the number of keyboards, monitors, and mice needed frees up desk space.