Cold Aisle Containment
Enhanced, Efficient Airflow Management in the data center is achieved with cold aisle containment
[/vc_column]
Reduce energy consumption with cold aisle containment by eliminating the mixing of hot and cold air
An enormous amount of energy is used every day to maintain an acceptable intake temperature to the IT equipment. In recent years, there has been no greater positive impact on the cooling of data centers than the introduction of containment. The energy savings alone has saved hundreds of millions of dollars and has greatly decreased data centers' carbon footprint. Datacenter containment has virtually changed the way IT facilities are designed and operated by fully separating cold supply from hot equipment exhaust air.
Diagram of a Data Center with Bypass Air problems (mixing of hot and cold air) – a very common cause of power loss —–>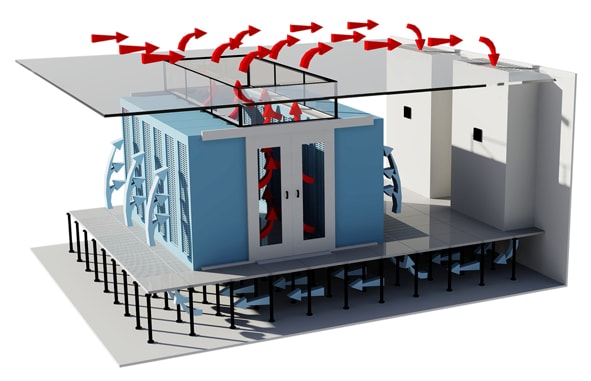 Even at minor heat loads, there are challenges associated with hot aisle, cold aisle. Some of them include:
Bypass air -"the volume of cold supply air that enters the room but does not directly enter the IT equipment"-limits the precise delivery of cold air at the server intake.
Hot air recirculation, where exhaust heat enters the cold aisle, either over the tops of racks or through open rack spaces, ensures that the cooling infrastructure must throw colder air at the equipment to offset this mixing.
Hot air contamination prohibits the air handlers from receiving the warmest possible exhaust air, rendering their operation less efficient.
Hot spots may persist as a result of all of the above
Types of Cold Aisle Containments
Cold Aisle Containments on raised floors
Cold Aisle Containments on non-raised floors
Benefits of Cold Aisle Containments
Higher Density Installations
Air Handler Efficiency and Capacity
Central Plant Energy Efficiency
Why Cold Aisle Containment is Today's Necessity of Data Center
On the data center floor, cold aisle containment provides targeted cooling. This precision has many operational advantages like,
Servers assured a consistent inlet temperature;
air conditioners can achieve greater capacities;
the chiller plant can become more efficient by supplying and receiving elevated water temperatures.
These improvements sound great on paper, yet they also produce greater results: a reduction in capital and/or operational expenses.
The current economic environment may delay an enterprise's ability to develop a new data center. But we understand that the demand is to achieve more uptime and more computing capacity from their existing facilities, while the industry encourages conservation and sustainability.
Cold Aisle Containment proves an economical way to achieve both objectives.
Request a Call Back and we'll get in touch with you.