Leading Insurance company has been provided with an Image scanner P 208 by NTIPL for making significant changes in their document scanning
Network Techlab has made the Leading medical insurance company document scanning work easier & faster by offering them quality image scanner.
Organization: Medical Insurance company
Location: Mumbai.
Domain: Medical Insurance.
Solution Offered: Scanner P 208 (Qty 40)
.
Overview –
Established in 1986, the company is in the sector which serves development and manufacturing of APIs with finished dosage pharmaceutical formulations. The values transcend mere profits and guide in fulfilling the responsibility towards society.
Pharmaceutical, medical & insurance sector are often crowded majorly with medicines & drugs. As the work is into a define process of quotation, order, invoice & billing, it often involve the method of document & invoice scanning for systematic  documentation. We NTIPL catered them with an excellent performing document scanner with customization for smooth flow of the billing process.
Challenges –
The company was facing challenges in scanning process due to low output & poor quality service because –
Lower quality of image scanning which resulted delay in document submission.
Low resolution produced darker & tanned images made the quality messed to the client for their customers.
Image quality has also damaged the paper & quantity of paper usage was also a problem.
Submission of large quantity of document within estimated time was the actual concern.
Speed & accuracy of old scanner system made the major concern to client.
Why Innovation was required / Solutions offered –
Image scanner are undoubtedly important for today's Business due to instant requirements of various solutions by their clients. As the compact & customized image scanner can be used anytime anywhere that can produce excellent quality image without breaking the original image quality. Similarly, renowned insurance company inquired us for a solution that can enhance their large number of document scanning within estimated budget requirement, we subsequently offered them with a fine solution of scanner without effecting their ongoing working factor.
Conclusion –
With successful delivery of Canon image scanner P 208, the renowned medical insurance company is highly impressed due to –
We met the customized requirement instantly.
Cost effective & time saving solution offered.
High quality of scanning & instant image output.
Compression give liter PDF to client.
Our representative collected document & scanned it within the timeline which has made the client overwhelming & highly appreciated to us.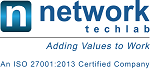 Network Techlab (I) Pvt. Ltd.
41, Sarvodaya Industrial Estate, Opp. Paper Box, Off. Mahakali Caves Road, Andheri East, Mumbai – 400093. India
P: 022-6681 4141 | info@netlabindia.com | www.netlabindia.com
Mumbai | Navi Mumbai | Ahmedabad | Vadodara | Vapi | Pune | Bangalore | Chennai | Goa | Delhi | Kolkata
Wan't to discuss your project? Contact us Today.