Network Techlab provided scanning solution for smooth workflow of document management to St. Jude India childcare centre.
St. Jude India Childcare centre has been assisted with a document scanning solution by Network Techlab over their large number of documents which has made their work more versatile & productive.
Organization:
St. Jude India Childcare Centre
Location:
Sewri, Mumbai – 33
Domain:
Non-Profit Organization (Healthcare).
Solution Offered:
Scanning Solution
.
Overview –
St. Jude India ChildCare Centres (St. Judes for short) is a not-for-profit organization in India that provides free of charge shelter and holistic care to children who are undergoing cancer treatment along with their families, at Tata Memorial Hospital and other treating hospitals. It is a Section 8 non-profit company supported by individuals, corporate houses and Charity Trusts. Founded in 2006, it has headquarter in Mumbai & overall 38 centres located all over India.
St. Jude is a NPO which cater with multiple department & faculties that looks after the patients. Since the treatment & taking care of patient does require a longer duration time, St. Jude often keep a tracking records of all necessary details which can be beneficial for a complete manageability. Hence for multiple document scanning, Network Techlab significantly supported them with a proficient scanner which made their work more relevant & précised.
Challenges –
Glitches in document scanning led to time consumption.
Improper imaging quality & screening.
Effecting directly to the NPO productivity.
Fundamental load & cost leading to high budgeting.
Delay in document submission made the formalities more lengthy & complicated.
Ineffective speed & accuracy of old scanning sytem result low output to the Business.
Why Innovation was required / Solutions offered –
An effective document management and scanning program will save your Organization cost. Employees will be more productive which will lead into Organizational's exceptional performance & productivity.
Document scanning and imaging can greatly reduce the amount of time you spend on filing – leaving you with more time to work on the important stuff.
Conclusion –
On the following analysis we have provided the solution –
Scanner has made the multi-user access support system to the client.
Systematic back up & restore functionality.
Excellent image quality leads to accurate results.
Ability to add files from multiple sources.
A smooth workflow of documents made the productivity enhancing.
OCR capabilities.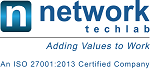 Network Techlab (I) Pvt. Ltd.
41, Sarvodaya Industrial Estate, Opp. Paper Box, Off. Mahakali Caves Road, Andheri East, Mumbai – 400093. India
P: 022-6681 4141 | info@netlabindia.com | www.netlabindia.com
Mumbai | Navi Mumbai | Ahmedabad | Vadodara | Vapi | Pune | Bangalore | Chennai | Goa | Delhi | Kolkata