Leading Technology Institute Completes Migration from Traditional Cloud to Amazon Web Services
Network Techlab Successfully enabled the Change with to Amazon Web Services, helps in establishing faster connectivity and more traffic to website.`
Organization:
Technology Institute
Location:
Mumbai, Maharashtra
Domain:
Education
Solutions Offered:
Cloud Migration
Overview
The organization is a pioneer in the non-formal vocational training business in the country, with a substantial global presence, with over three decades of solid experience in vocational skilling and non-formal academic curriculum-based training programs. Since its founding in 1986, the company has successfully expanded into a variety of industries, including IT training, media & entertainment, retail & aviation, beauty & wellness, banking & finance, and the pre-school segment, among others, with a global presence of over 800 centers. Under Individual Training, the company offers career and professional training through its multi-brands. The organization provides career and professional training through its several brands under Individual Training.
The Challenge:
The institute was coming up with their new sister website for one of the leading cosmetics brands in India, earlier this website was hosted on the traditional cloud platform, due to heavy traffic and global website access, they were facing latency issues. Also, there were challenges in terms of integration and service viability for the different tools. Demanding use of new tools required more compute power, agility and performance consecutively they decided to shift on the latest cloud platform that could solve administration issue and deliver desired performance.
NTIPL Solution:
Network Techlab got involved with the company and designed a complete solution based on the use case organization and came up with a solution for moving the company's cloud computing services to Amazon Web Services as well as assisting them with the setup of the website. Our team linked their corporate domain with route53 by utilizing S3 storage and a CDN solution. CDN helps in connecting the nearest POP rapidly and reduces issues like latency. Modification in the existing SSL certificate enables cost-saving.
Benefits:
Provided improved security over dynamic websites (dynamic websites are at risk to web shell attacks if a vulnerability is present)
Fewer or no dependencies on systems such as databases or other application servers
Cost savings from utilizing cloud storage, as opposed to a hosted environment
It is easier for search engines to index due to the fastest connectivity.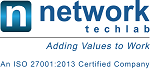 Network Techlab (I) Pvt. Ltd.
41, Sarvodaya Industrial Estate, Opp. Paper Box, Off. Mahakali Caves Road, Andheri East, Mumbai – 400093. India
P: 022-6681 4141 | info@netlabindia.com | www.netlabindia.com
Mumbai | Navi Mumbai | Ahmedabad | Vadodara | Vapi | Pune | Bangalore | Chennai | Goa | Delhi | Kolkata