CGS-CIMB Securities International Pte. Ltd. collabarting faster with AWS Cloud Architecture
Network Techlab helped CGS-CIMB Securities International Pte. Ltd. for Implementing diversified AWS Cloud Services.
Organization:
CGS-CIMB Securities International Pte. Ltd.
Location:
Mumbai
Domain:
Capital Product Company
Solutions Offered:
VPC (Virtual Private Cloud),Subnet, VPC to VPC Peering Security Groups, Roles & IAM (Identity & Access Management) Rules
AD Windows on EC2, Linux EC2, S3 bucket, MS SQL on windows EC2
SNS, CloudWatch
VM Series Paloalto Firewall
Overview
CGS-CIMB Securities International Pte. Ltd. ("CGS-CIMB") is one of the leading integrated financial service providers in Asia. It is a 75-25 joint venture between China Galaxy International Financial Holdings Limited, a wholly-owned subsidiary of China Galaxy Securities Co. Ltd., and CIMB Group Sdn Bhd. Through a network of local offices, branches and strategic partners, we have a global presence in over 20 countries, providing a truly Asian perspective. We are well-positioned as Asia's leading financial gateway with a core focus on well-researched and in-depth analysis on financial products.
The Challenge:
Multiple applications and platforms to be moved to AWS cloud which makes the process tedious
Lack of documentation support and redundant data for on premise datacenter
Poor application performance while accessing from different geo-locations
CGS-CIMB Securities International Pte. Ltd.a SaaS product, requires 24×7 uptime
Performance issues associated with on-premise data center
Start and end dates of the project:
Start date: 25th Dec 2021
End date: 3rd Jan 2022
NTIPL Solution:
After initial analysis, our solution architects found that there was an immediate need to re-architect multiple applications and re-build it on AWS network architecture. The continuous integration/continuous deployment was automated using the AWS application migration service.
Technical challenges like the deployment architecture should be cloud-agnostic Very tightly-coupled applications with complex solution architecture and redundant data, Mirroring approach employed in migration to AWS
Additionally, threat prevention policies can stop both known and unknown attacks. Work from users can access through VPN. Global protect VPN client used to take access from home. Created three VPCs as per existing networking. After replication activity we have scheduled cut-over downtime, so we can take less & limited downtime & not more effect on business.
Also as per on-premises have an Active Directory in production, side by side we have migrated the AD server after replication is complete, now AD on windows server.Paloalto VM firewall also deployed for better security from start to end.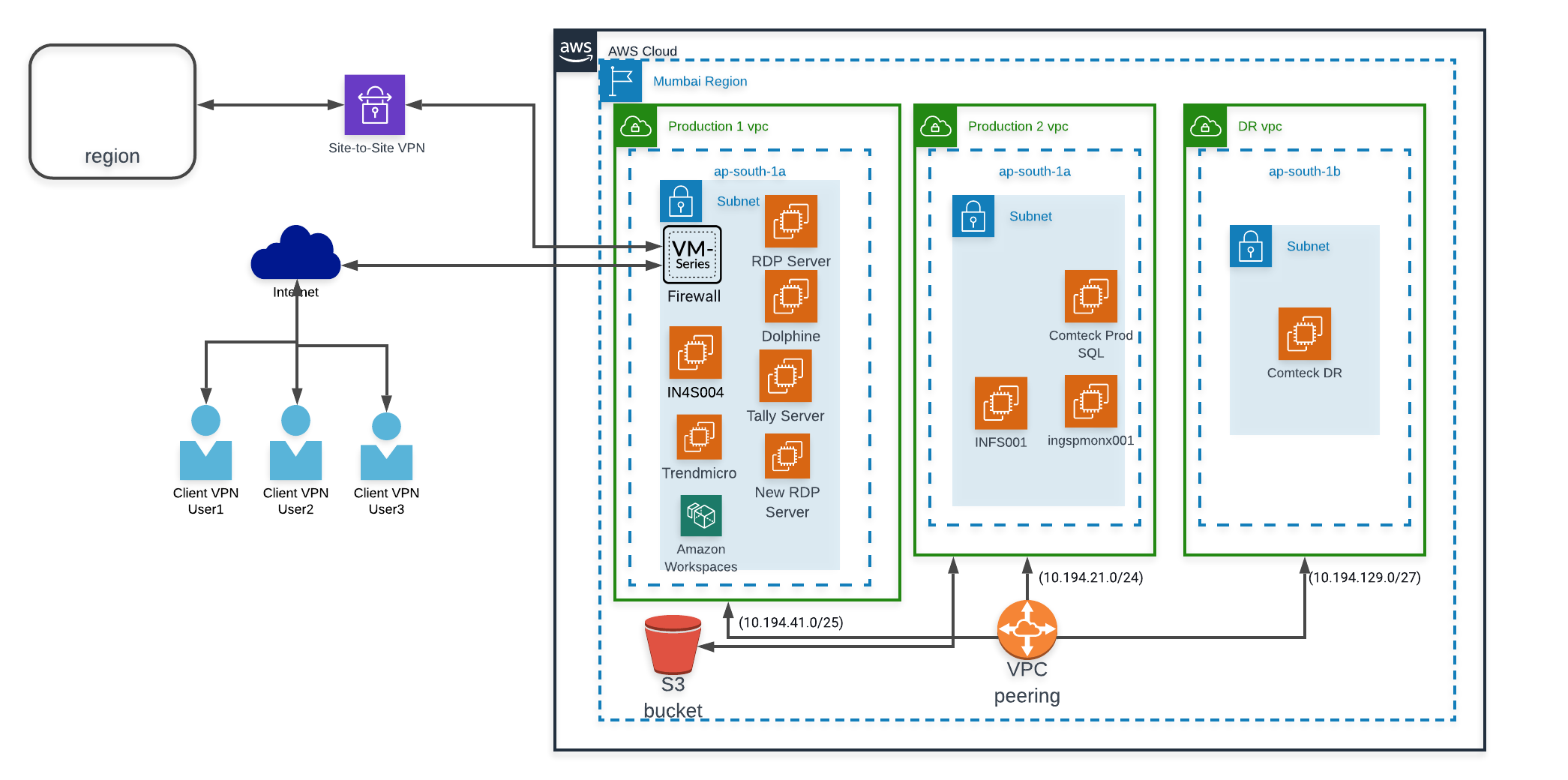 As above architecture designed which includes Firewall. As well in this architecture Firewall's used for traffic inspection of all inbound and outbound flow. All servers are migrated from on-premises to cloud successfully. Users are using client VPN of global protect. VPC to VPC peering also configured between VPCs. Site to site VPN configured with region on VM firewall.
On AWS Infra, we have configured & migrated the AD server, file server & Applications as per requirement. Paloalto firewall also configured for security & various types of URL filtration. Global protect client used by users to connect file server & RDP. The entire environment is interconnected with VPC peering.
S3 is also connected with EC2 instances using the Atmos app to backup data. In the EC2 instance jobs are configured for data backup. Active directory is connected with all respective servers. Users can able access from home also using global protect client.
Results :
21% reduced infrastructure cost through cloud instances scheduling
20+TB of data migrated from on-premises to AWS
99.99% availability of servers
Improved reliability, availability and scalability for its customers
Benefits Achieved:
Increased speed and agility after migrating to AWS as resources are better used to grow profits for the business.
Reduced Operational cost with dynamic scaling.
The increased economy of scale and optimized cost by using the right combination of AWS services.
Higher performance was possible in spite of accessing the application from different geographical locations.
Reduced business and operational risks by migrating to a more resilient and secured IT environment.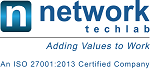 Network Techlab (I) Pvt. Ltd.
41, Sarvodaya Industrial Estate, Opp. Paper Box, Off. Mahakali Caves Road, Andheri East, Mumbai – 400093. India
P: 022-6681 4141 | info@netlabindia.com | www.netlabindia.com
Mumbai | Navi Mumbai | Ahmedabad | Vadodara | Vapi | Pune | Bangalore | Chennai | Goa | Delhi | Kolkata