Apex Insurance Consultant Limited Benefits From AWS's End-to-End Cloud Solution.
Network Techlab assisted Apex Insurance Consultant Limited with its migration to Amazon Web Services.
Organization:
Apex Insurance Consultant Limited.
Location:
Mumbai
Domain:
Insurance  Company.
Overview
AICL (Apex Insurance Consultant Limited) is a company formed under the Indian Companies Act 1956 as a Limited Company. The company is proud to be backed by professionals having a strong financial hold. The exclusive feature of the company is that this is the only company in India, which has been formed as a complete risk Management Company for medical practitioners. With its trained technical professionals, the company had analyzed the details of services required on every step of the professional practice of a doctor and has also prepared itself to meet the future challenges in form of different medico-legal problems and litigations. While going through the incorporation of this company each and every aspect of the problems, suffering and available protections for a medical practitioner has been scrutinized so that a best service platform can be created. The company at present is armed with highly experienced professionals from different fields of service industry and from insurance field in particular.
The Challenge:
The a (Apex Insurance Consultant Limited) has a large number of registered doctors who are their customers who purchase policy from apex ltd for managing all users at single place. Before this apex was mainting with other web hosting providers which were quite challenging with tracking, managing policy, purchasing with multiple user profiles that were spread across various locations. This led to managing users of account creation and delays in provisioning. Manual provisioning was time consuming and asset management was becoming a concern for transient workforces like service providers and contingent workers.
Start and end dates of the project:
Start date: 11th Feb 2021
End date: 13th Feb 2022
NTIPL Solution:
(Apex Insurance Consultant Limited) moved their websites to Windows Instances on EC2 to prevent web server crashes, which helped the sites become more stable and handle increased traffic. We now have the ability to scale the instance vertically or horizontally based on load factors – something that was missing on the Go Daddy platform. A Cloud Watch alarm was set up to monitor system parameters and send alerts so we can stay ahead of any problems that may come up in the future. Migration to AWS allows the foundation to run the business without interruption, and we can also predict performance and make changes to the environment as needed.
The completed infrastructure sits inside an Amazon Virtual Private Cloud (Amazon VPC), Amazon EC2 instances support both the infrastructure's applications and the applications' Microsoft SQL Server databases  (Apex Insurance Consultant Limited)also uses Amazon Simple Notification Service (Amazon SNS) to alert customers when their results are ready to update customers via Alert Notification.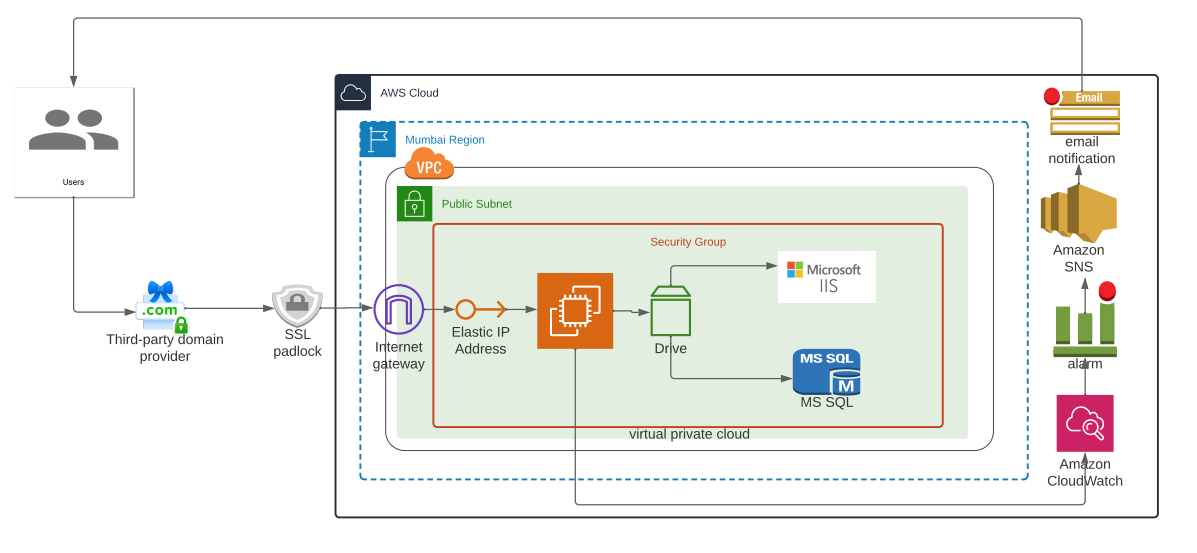 The new Amazon Elastic Block Store (EBS) with new Amazon EC2 gp3 instances provides easy-to-use, high-performance block storage for Microsoft SQL Server. Benefit from the highest block storage performance with a single storage volume using io2 Block Express (Preview) and EC2 gp3. Other SSD-backed EBS options include io2 volumes for business-critical applications and gp3 volumes for general purpose applications. Amazon EBS also offers crash-consistent snapshots and enables application-consistent snapshots through Windows VSS (Volume Shadow Copy Services) to help protect your SQL Server deployments.
Using AWS, Apex insurance eliminates outages and reduces on-premises hardware costs by 60 percent. by leveraging EC2 Services. The Apex insurance runs on Amazon EC2 Instances, with MS SQL providing Databases, IIS for a webserver. And Microsoft ASP.NET MVC framework 4.0 HTML5, CSS3, JavaScript
Services Used
Results :
With Amazon EC2, cloud watch & SNS. (Apex Insurance Consultant Limited) furthered its Cloud First strategy to streamline and accelerate business operations by building an AWS Cloud infrastructure, an initiative that ultimately also supported the company so it could succeed in uncertain times. (Apex Insurance Consultant Limited) is now able to onboard more Doctors significantly faster than they could by using their in-house solution on-prem. Also, on AWS, they can quickly scale their production stack as dynamically as their workloads scale. For example, (Apex Insurance Consultant Limited) can now easily increase its storage footprint and compute footprint utilizing AWS's highly scalable features.
Benefits Achieved:
Eliminates outages.
Low-Cost infrastructure due to the Use-as-you-go model pricing.
Low-Cost Storage & Disaster Recovery Protection.
Automated IT processes.
Flexible Scaling opportunities.
Predictable Performance – Websites are stable and we can predict any changes that may occur.
Supports thousands of simulations each week.
Secure Cloud environment.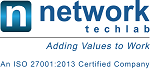 Network Techlab (I) Pvt. Ltd.
41, Sarvodaya Industrial Estate, Opp. Paper Box, Off. Mahakali Caves Road, Andheri East, Mumbai – 400093. India
P: 022-6681 4141 | info@netlabindia.com | www.netlabindia.com
Mumbai | Navi Mumbai | Ahmedabad | Vadodara | Vapi | Pune | Bangalore | Chennai | Goa | Delhi | Kolkata