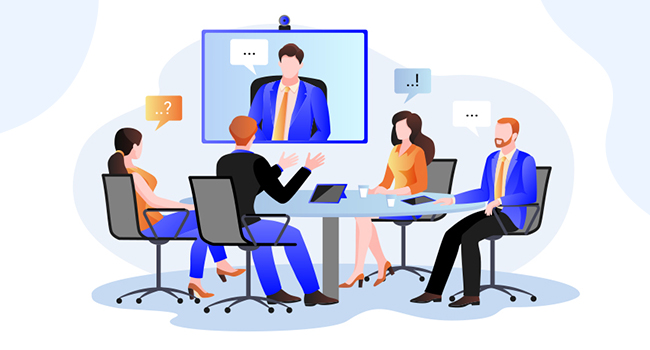 Which companies are providing video conference services at affordable prices in india?
There are Multiple options available for video conference solution in india, checking on the below aspects will help to choose right solution provider.
a. Improved management communication
b. Highly strict and secure web environment
c. Mobile and cloud-based video conferencing
d. Global video conferencing market

Comparing with the all the technologies available would personally recommend the video conferencing solutions from Network Techlab, gives far reaching video conferencing solution in India that takes cares of each prerequisite for setting up a video conferencing Solution.
Video conference service providers in india Frequently Asked Questions [FAQ]
Is a video conference useful during covid-19 ?
The world has changed during and after COVID19 and businesses are no exclusion to this. It has changed the way we dealing with all stakeholders for now and future. video conferencing and Video conference technology has become more essential than ever which is helping to connecting the modern workforce, today and beyond.
Communication tools such as Zoom and Microsoft Teams have become the unsung heroes of reconnecting employees when they've been forced to become physically dispersed.

How do you collaborate with team virtually & find the easiest way to use while video conferencing?
Once you've found packages in your price range, focus on ease of use. Obviously, if the user interface is a puzzle, then it's not only going to cause delays in meeting start times, it'll also become a blocker to using the more advanced collaboration features. And that's where the real value of these systems is easy and always-on collaboration. That's the reason while signing up for video conferencing solution you should always check how easy that tool for the user to navigate.
Benefits of using video conferencing for your business?
• Enables the Digital Workforce :- Video meetings help teams maintain human connections, irrespective of physical location, which speeds up decision making and improves your ability to collaborate globally.
• Simplifies Management and Usability :- Teams need access to the collaboration solutions that let them meet via audio conferencing, video conferencing, screen sharing and real-time instant messaging.
• Rally Communication and Culture :- Bringing remote workers face-to-face with in-office employees can boost productivity on both ends and lower travel costs at the same time. Comparing travel costs and costs of video conferencing shows that video conferencing is a true winner.
• Increase Communication Reliability :- Video conferencing provides a fast and secure way to communicate with your teams. As video continues to evolve into a business-critical function, it's important to prioritize enterprise-class service reliability and support reliability in your solution.
• Improve Value and Reduce Redundancy :- Companies are upgrading their legacy audio or web conferencing providers and finding more value in full video conferencing solutions that include audio conferencing, screen sharing, chat, meeting recording and event live streaming.

How do manage your network for video conferencing?
Unfortunately, even in a large, centralized network like the one in your main office, working with any stream-dependent app, especially video conferencing, becomes trickier the larger the network and the more apps there are competing for network bandwidth. That means if you're running all or part of your solution on a larger network, then prepare to handle some tweaking.
How do you troubleshoot video conferencing issues?
While the basic setup is enough to get one session running, be sure to work with your IT staff to test what happens when multiple streams are open. And not just multiple streams, but those same streams competing with all the other types of traffic you've typically got running, too. You're looking for artifacts or excessive buffering that disrupt the stream.
How Do Different Types of Video Conferencing Work?
Basically there are two types of video conferencing work
1. Point-to-Point Video Conferencing:- Point to point video conferencing connects two different points anywhere, whether an office in India or a conference room in Singapore.
2. Multi-Point Video Conferencing :- In Multi point video conferencing we can add more than three locations can be either centralized or decentralized.
Here are some of our customers leveraging video conferencing services to enhance their live meetings.
Interested in our services?
Get in touch with us to know how we can help you.