Network Techlab contributed set of power packed 12 servers in order to boost up the productivity and backup assurance in the Business.
One of the it service provider has been commended by Network Techlab for the supply of 12 power packed server in order to increase productivity and thereby increasing Business efficiency.
Organization –
IT service provider
Location –
Dadar
Domain –
IT service provider
Solution Offered –
Servers (12 no's)
Overview –
One of the It service provider company is India's No. 1 Local Search engine that provides local search related services to users across India through multiple platforms such as website, mobile website, Apps (Android, iOS), over the telephone (voice, pan India number 8888888888) and text (SMS).Justdial has also initiated 'Search Plus' services for its users. These services aim at making several day-to-day tasks conveniently actionable and accessible to users through one App.
The branch functioning at Dadar of Justdial prospectively ordered for 12 servers for their higher productivity and thereby facilitating excellent back up assurance and managed mitigated hardware issue.
Challenges –
At the branch of Dadar, Justdial has an operation team and a department which contribute to the working of the Organization thereby implementing high end workstation for every individual. However, due to non-upgraded version of server and computer, poor back up issue, lack of technological features has critically made the working process longer and non-streamlined.
There was an immediate requirement of 12 servers instantly for their branch, and they requested us with the same, within instant request Network Techlab cooperatively provided them with required servers and facilitated work even better.
Why Innovation was required / Solutions offered –
In many cases, a server looks just like a computer and acts just like a computer. However, they're often cheaper in the long term than a regular desktop, can be much more powerful, and (most importantly) they can help to cut down on inefficiencies within your business.
Conclusion –
Provided server has mitigated hardware issues with one device.
It has declined risk of data breaches in the Organization.
Servers have immensely enabled team mates to access their files and emails remotely and securely.
Facilitated improvement in scalability of the Business. We assured them with an instant delivery of within 2 days.
Server has implemented protection against various malware function which can harm the data encryption.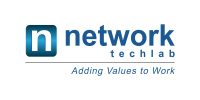 Network Techlab (I) Pvt. Ltd.
41, Sarvodaya Industrial Estate, Opp. Paper Box, Off. Mahakali Caves Road, Andheri East, Mumbai – 400093. India
P: 022-6681 4141 | info@netlabindia.com | www.netlabindia.com
Mumbai | Navi Mumbai | Ahmedabad | Vadodara | Vapi | Pune | Bangalore | Chennai | Goa | Delhi