Contact:
02266814242 / info@netlabindia.com

Next Generation Firewalls
Easy to identify, allow, block or limit application.  Be ready with Zero Day attack environment.
Next-Generation Firewalls allows you to get granular control of applications by specific clients or group of clients and machines that the users are utilizing to have a granular policy. Next-Gen Firewall comes with all inbound and outbound SSL decryption capabilities that helps your organization to recognize and prevent threats and malware.
WAF (Web Application FireWall)
It secures web application by observing HTTP/HTTPS traffic and protects web applications from attacks like cross-site forgery, scripting (XSS), file inclusion and SQL injection, etc. Behavior analytics are a required for detecting blended attacks. Many layers, 7 Distributed Denial-of-Service (DDoS) attacks are surreptitious and may go undetected by traditional signatures and reputation-based solutions. WAF naturally learns the application conduct and consolidates the social heuristics of traffic with the server worry to decide the DDoS conditions.
Network Techlab provides WAF solutions to help you get the most precise recognition without fallacious positive detection. Dynamics mark are then made and sent on the fly for real time protection.
Stop advanced threats, protect the privacy of your inbox.
Email is widely used medium to attack a danger threat vector utilized by cyber criminals. A superior solution provided by Network Techlab to deploy a secured email gateway that uses a multi-layered approach. Secure your email journey with comprehensive email security solutions. Network Techlab has an all-inclusive solution for all your email security needs.
Check what our customers are saying

Thanks for the all support given by both of you for making Palo Alto Firewall Live for Malad PSC location.
Ajay Sudhakar Mandekar
Associate VP – Networking


You guys have thorough knowledge of the subject and that was very helpful for Mumbai Firewall migration activity We want both of you to available for our Pune Firewall migration as well .
Ritesh Nandu
Manager – Information Technology


Team Network Techlab has provided fantastic support to get this project complete on defined timeline. He has supported us late night whenever we have asked for it. Deepak is very responsive.
Ashish Chakraborty
Manager and IT Head

We do more than simply secure IT. We protect your mission.

Next Generation Firewall
Next Generation Firewall
Instantly find and stop attacks with a fully automated platform that
simplifies security.

Next Generation Endpoint Security
Next Generation Endpoint Security
Securely connect users. Stop both known and unknown malicious software.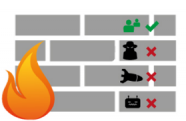 Web Application Firewall
Web Application Firewall
Secure websites and Web-based applications
in the organizations

Data Loss Prevention
Data Loss Prevention
Detects potential data breaches/data ex-filtration transmissions and prevents them by monitoring, detecting and blocking sensitive data