Contact:
+91-8879004536 / info@netlabindia.com

Cyber Security Solution
We have 22+ years of Experience in providing End to End customized solutions and services for the entire organizational setup. Our brand character is customized, professional, immediate, helpful and up-to-date with the latest technology developments.
Ransomware Destroys More Than Data!

WannaCry Caused Chaos | Demanded $300 Of Bitcoin | Hit More Than 230,000 Computers In Total

Bad Rabbit Ransomware Uses Diskcryptor, An Open Source Full Drive Encryption Software, To Encrypt Files On Infected Computers With Rsa 2048 Keys.

Petya is a family of encrypting ransomware that was first discovered in 2016. The malware targets Microsoft Windows-based systems
We do more than simply secure IT. We protect your mission.

Next Generation Firewall
Next Generation Firewall
Instantly find and stop attacks with a fully automated platform that
simplifies security.

Next Generation Endpoint Security
Next Generation Endpoint Security
Securely connect users. Stop both known and unknown malicious software.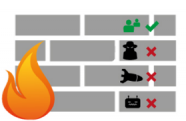 Web Application Firewall
Web Application Firewall
Secure websites and Web-based applications
in the organizations

Data Loss Prevention
Data Loss Prevention
Detects potential data breaches/data ex-filtration transmissions and prevents them by monitoring, detecting and blocking sensitive data