Even after using branded servers and Firewall Devices, do you see any failure in your data centre because of poor infrastructure management?
Don't Wait for Surprise and get your Data Centre Audited!
CONTACT US
Please fill the below form and we will get in touch with you to conduct DC Audit
What do our Experts do in a Data Center Audit?
Installation and operation of hardware and software.
Equipment maintenance.
Continuous performance monitoring.
Operational monitoring.
Software management and recovery procedures.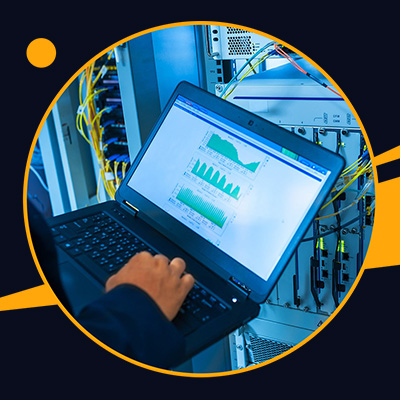 Steps in Data Center Audit:
Qualification meeting with the Data Center stakeholders and site visit, to understand
Customer awareness and strategies towards robust and green Data Centers
Discussion to identify the key areas of the energy assessment program
Short- and long-term customer expectations and objectives
Energy management policies
Carry out a Data Center diagnosis in order to
Develop and measure the PUE (Power Usage Efficiency) metric Measure and develop performance profiles for Data Center elements (servers, storage, cooling, UPS)
Identify critical and main energy-consuming IT systems and infrastructure equipment
Analyze their current performance in terms of age, reliability and free capacity.
Identify a gap between current practices and state-of-the-art best practices for the next generation of Data Center operations
Identify potential energy-saving opportunities and areas for cost optimization.
Deliver a detail report
PUE profile
The overall picture of Data Center power management, reliability and scalability
Gaps in practices and technology advances
Potential levers and recommendations for improving uptime and PUE.
Develop solutions and follow up performance
Technology upgrades
Virtualization and consolidation
Power management solutions and processes
Data Center infrastructure improvements – (Automatic control systems, heat, ventilation and air-conditioning controls)
Network Techlab offers the following expert independent Data Center Audits:
Data Center Audits as per international standards
Systematic Data Center Migration & overhauls
Data Center Assessment
Data Center Design Audit
Data Center Build Audit
Data Center Live Audit
Data Center Power Audit
Data Center Cooling Audit
Dafa Center Environmental Audit
Data Center Safety Audit
Want to know how you can secure your Critical Data Center essentials with Data Center Audits?
Request a Call Back and we'll get in touch with you.