Access Control
Access control is a security technique that can be used to regulate who or what can view or use resources in a computing environment. There are two main types of access control: physical and logical. Physical access control limits access to campuses, buildings, rooms and physical IT assets. Logical access limits connections to computer networks, system files and data.
The four main categories of access control are:
Mandatory access control
Discretionary access control
Role-based access control
Rule-based access control
Access control systems perform authorization identification, authentication, access approval, and accountability of entities through login credentials including passwords, personal identification numbers (PINs), biometric scans, and physical or electronic keys.
BENEFITS OF ACCESS CONTROL SYSTEM
Track and deter access throughout your organization.
Assists in auditing of movement and time and attendance of staff.
Restrict access to sensitive areas
Provide a safer working environment.
Remotely administer and control access to multiple facilities through one interface.
NTIPL's access control solutions give you the freedom to mix and match best-of breed hardware and software and to integrate them seamlessly with other systems, including your surveillance system. You can use them for everything from basic identification and entry control to advanced access management.
Use them with any hardware. You're not tied to proprietary hardware. In other words, you can use open-standard components of your choice from any supplier.
Integrate them with other software and systems. Your network camera analytics solutions, HVAC solutions or time and attendance solutions are just a few possibilities.
Save money and reduce total cost of ownership. Our access control solutions can easily be connected to and powered by your existing IP network and you're not tied to expensive propriety equipment.
Enjoy scalability and flexibility. Start with what you need and easily grow your solution in step with your business and your requirements thanks to an open interfaces.
Access control system topologies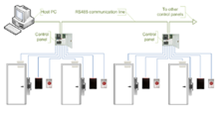 Access control system using serial controllers
1. Serial controllers:
Controllers are connected to a host PC via a serial RS-485 communication line (or via 20mA current loop in some older systems). External RS-232/485 converters or internal RS-485 cards have to be installed, as standard PCs do not have RS-485 communication ports.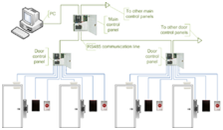 Access control system using serial main and sub-controllers
2. Serial main and sub-controllers:
All door hardware is connected to sub-controllers (a.k.a. door controllers or door interfaces). Sub-controllers usually do not make access decisions, and instead forward all requests to the main controllers. Main controllers usually support from 16 to 32 sub-controllers.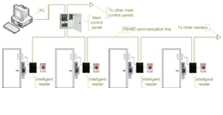 Access control system using serial main controller and intelligent readers
3. Serial main controllers & intelligent readers:
All door hardware is connected directly to intelligent or semi-intelligent readers. Readers usually do not make access decisions, and forward all requests to the main controller. Only if the connection to the main controller is unavailable, will the readers use their internal database to make access decisions and record events. Semi-intelligent reader that have no database and cannot function without the main controller should be used only in areas that do not require high security. Main controllers usually support from 16 to 64 readers. All advantages and disadvantages are the same as the ones listed in the second paragraph.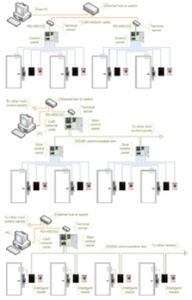 Access control systems using serial controllers and terminal servers
4. Serial controllers with terminal servers:
In spite of the rapid development and increasing use of computer networks, access control manufacturers remained conservative, and did not rush to introduce network-enabled products. When pressed for solutions with network connectivity, many chose the option requiring less efforts; addition of a terminal server, a device that converts serial data for transmission via LAN or WAN.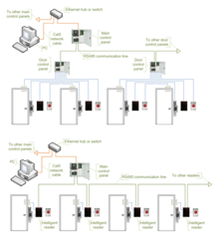 Access control system using network-enabled main controllers
5. Network-enabled main controllers:
The topology is nearly the same as described in the second and third paragraphs. The same advantages and disadvantages apply, but the on-board network interface offers a couple of valuable improvements. Transmission of configuration and user data to the main controllers is faster, and may be done in parallel. This makes the system more responsive, and does not interrupt normal operations. No special hardware is required in order to achieve redundant host PC setup: in the case that the primary host PC fails, the secondary host PC may start polling network controllers. The disadvantages introduced by terminal servers (listed in the fourth paragraph) are also eliminated.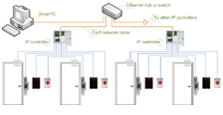 Access control system using IP controllers
6. IP controllers: Controllers are connected to a host PC via Ethernet LAN or WAN.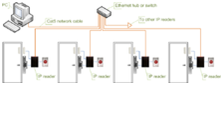 Access control system using IP readers
7. IP readers: Readers are connected to a host PC via Ethernet LAN or WAN.
For more information Please CONTACT US!